Special operations continue the Syrian army in the suburbs of Damascus. According to a representative of the Syrian armed forces, the 24 foreign mercenary of one of the terrorist groups operating on Syrian territory were liquidated the day before. It is noted that the majority of the liquidated militants are citizens of Saudi Arabia.
In the suburbs of Damascus, Syrian troops managed to repel militant attempts to gain a foothold in the area of ​​the Mezze air base. Successful operation was carried out in Eastern Gute. There, Syrian soldiers managed to destroy a rocket launcher and five SUVs equipped with large-caliber machine guns. In addition, the Syrian military took control of the communications center.
The special operation continues in the province of Aleppo. There, with support from the air, the Syrian army beat off a section of the road from terrorists, which made it possible to unblock the largest Syrian city. According to the Syrian news agency
SANA
In the region of Aleppo, Syrian government troops attacked the so-called "Islamic State" terrorists, killing several dozen militants and disabling their military equipment in the Al-Sheikh Ahmad - Tel-Ahmad sector.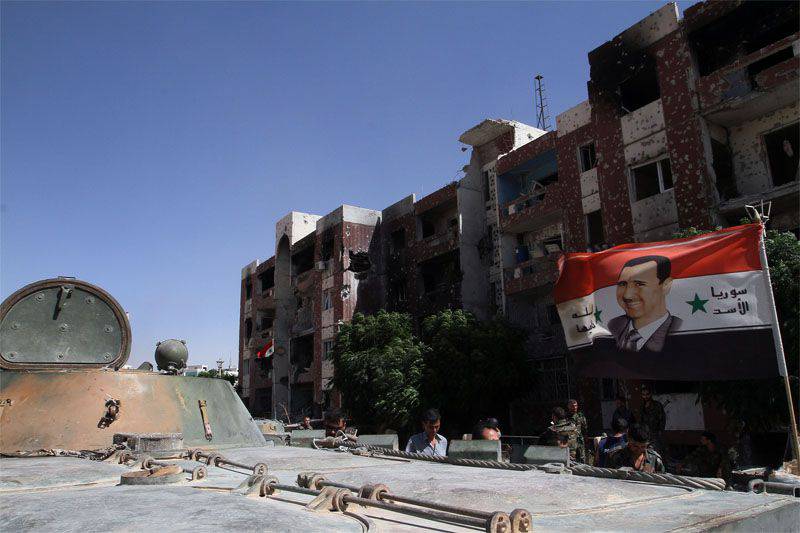 From a report by representatives of the Syrian army, referred to by SANA (on the progress of operations in the province of Hama):
In the north of the province of Hama, in the areas of Latmin, Al-Lyahaya, Mork and Al-Bana, SAR air forces attacked the clusters and shelters of militants Jaish Al-Fatah and Dzhebhat An-Nusrah, which suffered great damage in manpower and equipment.
Great success was achieved in the province of Latakaya, where in several areas at once it was possible to suppress the last pockets of resistance of terrorists. Thus, the strategically important height of Jebal Al-Ferk, as well as the road fork in the Beit Abu Risha area, were taken under full control of the SAR Supreme Court. Sappers conduct a sweep of the area laid by terrorists mines and improvised explosive devices.