Representatives of the administration of the Kirov district of Donetsk report that the units of the Ukrainian Armed Forces for the first time recently fired at the territory of the Donetsk People's Republic from the Grad MLRS. Information Agency
DAN
cites information about the shelling of the Staromikhailovka settlement, which belongs to the Kirovsky district of the DPR administrative center.
On the night of November 3, as a result of a direct hit by a shell, the roof of one of the private houses was completely destroyed, and a fire broke out. The shelling continued during the day. Tears of ammunition released from the territory occupied by the Ukrainian security forces, were heard in the northern outskirts of Donetsk.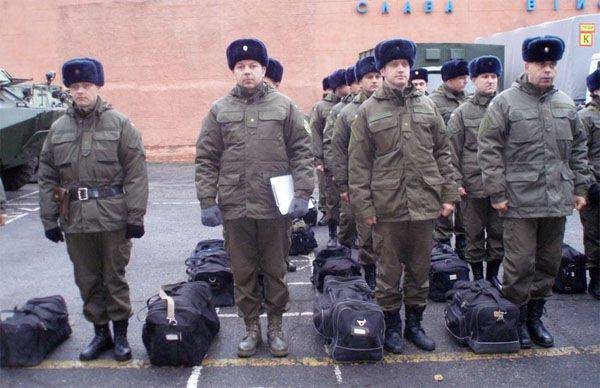 In the photo - the soldiers of the so-called National Guard of Ukraine
It is reported that representatives of the army of the DPR collected fragments of ammunition of the Gradz MLRS and sent them to the OSCE special mission operating in the territory of the Donetsk region.
From the message
Donetsk news agency
:
As a result of the shelling of the Petrovsky and Kirovsky districts of the city (...) four personnel (militia) were injured in a mine-blast.
It is added that the victims have severe fragmental wounds to the limbs, body, head, and chest.
In the Luhansk People's Republic, representatives of republican special services report on the prevention of an act of terrorism on the railway. An improvised explosive device was discovered on the Lugansk-Rodakovo stretch. Reports about it
Lugansk Information Center
. The exact location of the laying of an explosive device by the officers of the Ministry of State Security of the Republic of Lithuania became known after the detention of a representative of the Ukrainian commando group.