Concern about the influx of completely incomprehensible people united by the term "refugees" is growing in Germany not by the day, but by the hour. Those who have never been interested in politics turned out to be exactly in the situation that a famous aphorism speaks of: "If you are not interested in politics, then it will be interested in you."
One of the speakers of the conference on Ukraine in Germany, wrote an open letter to German Chancellor Angela Merkel.
This document accurately reflects the concern that is today spread in German society. Refugees are coming. Authorities say they will "accept everyone." There is no explanation, nothing. Angela Merkel, as established, insists - "we can master it."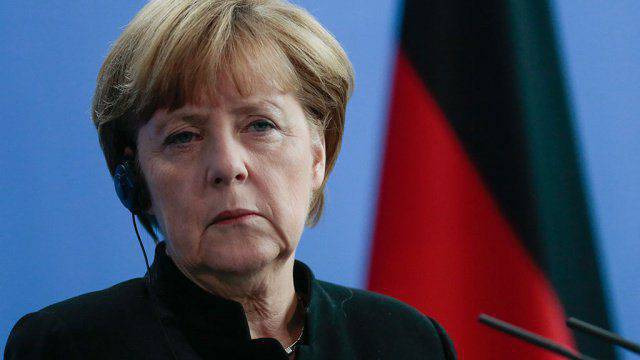 Dear Madam Chancellor,
Taking the oath, you swore that you would protect the German people from unhappiness. I have not noticed for a long time that you acted in accordance with your oath. Your open invitation to immigrants has led to a state that corresponds to a mockery of the legal components of your oath. You may have forgotten what you promised when you swore an oath. Therefore, I remind you of the general formula that you, with God's help, wanted to follow.
"I swear that I will dedicate my strength to the welfare of the German people, promoting their well-being, eliminating harm from them, upholding and defending the Basic Law and the laws of the Federation, conscientious fulfillment of my duties and justice to everyone. God help me. "
Regarding part of the Basic Law and the laws of the Federation, Prime Minister Seehofer / Bavaria / has already indicated to you that law and order on German soil, in accordance with the laws of the Federation, no longer exists. You yourself signed responsibility for this, because it was you who grossly violated German and European law.
Explain how we should master it.
In addition to the formula presented by you, similar to a prayer, "we will be able to master it," you refused during a conversation with Anna Ville / talk show on German TV / to even schematically present constructive solutions to acute problems that could lead to improvement in a short time. . There are calls for help all over the country, but you don't want to hear them. But, even worse, when ordinary citizens express their more than justifiable fears, you put them all in a "Nazi corner." At the same time, people want to know only one thing: say not only "we can master it," but also explain, please, how we should master it!
Neither you nor anyone in your government knows how many migrants have already arrived in Germany this year, and also where they actually are. We know for sure that everything, I emphasize, is that all refugee reception centers are overcrowded, and the flow of migrants does not stop. A rich imagination is not required to predict what will happen next winter. What can be expected if only 20 cm of snow covers Germany, and it is precisely this winter that much more snow is predicted? What happens if the tents collapse under a load of snow or people die en masse from carbon dioxide poisoning because the tents will be heated with unsuitable heaters as an emergency measure?
Now the Bundeswehr must help.
Are the fears of citizens sucked out of their fingers if the marauding hordes of young men move around the cities, seizing apartments and robbing supermarkets? Young people, who in most already have military training? How do you want to protect in this case your voters, the citizens of Germany? The police are already overloaded. How do you intend to defend the law, order and laws of the Federation in front of hundreds of thousands of people who are actually fighting for their lives, do not want to freeze?
Until now, you have not been able to expel people who were denied asylum. The Central Register of Foreigners (AZR) currently has more than 600 registered 000 foreigners who, over the past years and decades, have unsuccessfully undergone recognition as a refugee or whose refugee status has been withdrawn or expired, but they nevertheless live in Germany. 600 000 is a huge number and there is no plan for how they should be expelled from the country. Not to mention the millions of people whose applications have not yet been considered. Today, 21.10.2015, is already talking about bringing the Bundeswehr to the rescue. Transall aircraft / military transport aircraft of the Bundeswehr / must be removed persons who are denied refugee status. You as a physicist by education must know simple arithmetic. On one plane, the Transall will fit at best a 100 person. This would mean that the Luftwaffe must make 6 000 flights in order to cope with those who should have been sent long ago. How do you want to do this? Three serviceable machines Transall or four, if the fourth is not involved in the exercises of NATO? And what will you do when these machines, even if they operate charter flights, will not be given permission to land? Send military planes?
Fear spreads
I'm not the first to say that the situation is no longer manageable, and all you can say is: "we can manage it"! Who are we"? Are you and the head of your administration Altmeier? Have you ever thought that "we" no longer want to correct the situation in which you brought us? Your ongoing calls for a European solution not only do not find support in many European countries, they are also far from reality. Migrants shout "Germany" and it is impossible not to hear, and you want these people with a clear goal forcibly sent to other countries? Do you really believe that these people in a short time will not go to the country of their dreams? And what do these people really want to integrate in Germany, without making any effort to find out the name of the country that is their target, in the language of this country - German?
I am not the one who can be easily scared. But now I have to confess: I am afraid! Significant fear of chaos and anarchy. We cannot help people in need, even if we did it willingly, when we do not have the means to sift this mass. That is why those migrants who already have the right to stay, bring with them the greatest fears. Fear of being thrown into one cauldron with marauding gangs.
Save Germany from chaos!
Not only behind closed doors, it is already said about the forced placement of German citizens in apartments. It is quite open to direct migrants to empty houses. But what about the chancellor's oath? Respect for German law? Are you responsible for violating German law, if the police are allowed not to even document the attacks of migrants? If the numbers below will be faked in order to continue not to cause dissatisfaction of citizens? Yes, Mrs. Merkel, here you have no problem. Your apartment is guarded by hundreds of people (bodyguards are meant). But what about the old woman in her four-room apartment? What should she do when ten young men storm and occupy her apartment? Call the police if she can do this at all? And then listen to the message that her number is on the 1027 waiting list, and maybe next year someone will drop by?
Madam Federal Chancellor, you took your oath and as the daughter of a pastor, you must know what it means to swear to God. In Slovenia, the government has already introduced a state of emergency. And Germany is already in an emergency, and every day it gets worse, because you constantly refuse to send a message to migrants. I demand from you to do everything to save Germany from chaos. Migrants already arrived represent a problem situation that will be out of control without measures that none of us want. What happens when the first migrants are shot by the police in self-defense to protect their own lives? Will this also be a "xenophobia" or an action of the Nazis? Do you really want the ugly Germans to fly around the world again?
There is only one way to somewhat limit chaos. You should give a speech to potential migrants and should state the following: "Dear refugees, we really want to help you, but we CAN'T DO THIS! In Germany, there is no longer a single bed, not to mention the possibility of finding shelter adapted for winter. Stay where possible during the winter in places where you do not freeze. We will do our best, give as much money as is necessary to ensure the supply where you are right now. Who is on the way to Germany or Central Europe, will fall from the fire into the fire.
Madam Federal Chancellor, no one will blame you for not being able to save your face if you tell the world a real description of the situation. But you will enter
history
as the one who destroyed Germany and Europe, if you do not. Remember your oath and do your duty!
Respectfully, but with very, very great concern, Peter Haizenko. "