Information about the next incident with the US military aircraft publishes the press service of the Pentagon. On one of the American military bases in Japan, a fire occurred on a long-range radar detection aircraft
Grumman E-2 Hawkeye
. At the time of the fire, the American aircraft was in one of the hangars of the aircraft carrier Ronald Reagan. Aircraft carrier itself
USS Ronald Reagan
at that moment, he had a "full-time position" at the entrance to Tokyo Bay in the area of ​​the American Yokosuka base. So with reference to a source in the US military, the publication says
Stars and Stripes
.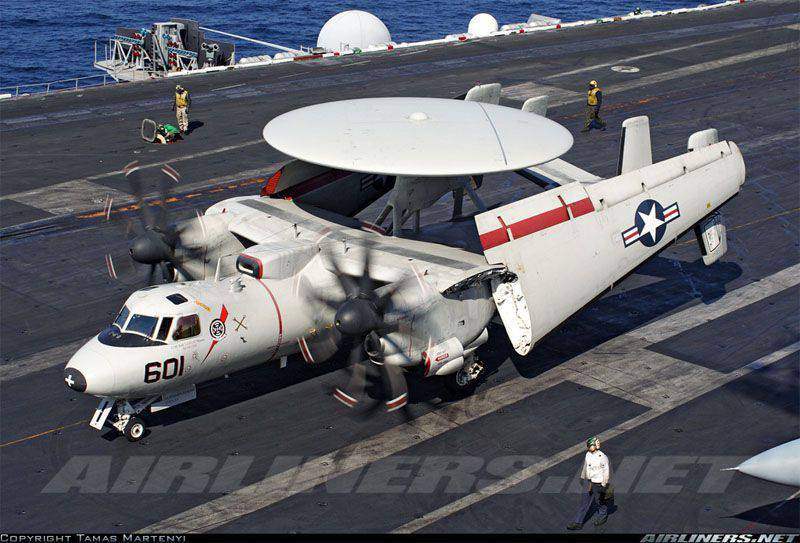 The fire broke out on October 18. The flames, which after some time managed to extinguish the team, caused damage not only to the aircraft
Grumman E-2 Hawkeye
, but also to the aircraft carrier itself. Damage is assessed.
Noteworthy information can be considered that it was at the time of the start of the fire that the Japanese delegation headed by Prime Minister Shinzo Abe arrived at the American aircraft carrier.
For your information:
Deck radar detection aircraft
Grumman E-2 Hawkeye
in addition to the United States operated by Japan, France, Singapore, Mexico, Israel and other countries. Production of these aircraft began in the 60-ies.
Characteristics of the aircraft:
crew - 5 man
length - 17,54 m,
empty mass - about 17,2 tons,
maximum take-off weight - 23,6 tons,
maximum speed - 598 km / h,
distillation range - to 2,6 thousand. Km,
patrol duration - no more than 4 hours with a combat range of up to 320 km,
practical ceiling - about 9,4 th. m.