On the eve of the "Military Review" reported that on the website of the President of Ukraine, a petition with the initiative of stopping the supply of electricity from the Ukrainian territory to the Crimea gained more than 26 thousands of votes. Today it became known that some people in Ukraine decided to make an attempt to translate this idea into reality on their own, damaging two transmission towers supplying electrical energy to the Crimean peninsula.
The State Service of Ukraine for Emergency Situations issued a statement about the incident that occurred on the territory of the Kherson region (quote
RIA News
):
Two supports were blown up. They are damaged, but did not fall. Electricity is still being supplied, but it will be shut off for the duration of the repair work.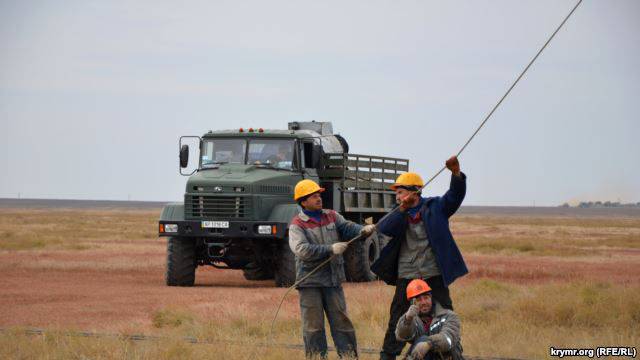 It is reported that power line poles were blown up using mortar mines on the Melitopol-Dzhankoy line. The transmission of electricity by the employees of the State Service of Emergencies of Ukraine in the Kherson region will resume after the completion of the restoration work.
Undoubtedly, this is another "peremoga" of Ukrainian radicals, because all the restoration work is carried out at the expense of Ukrainian taxpayers, which in any case will affect the tariffs for Ukraine itself.