In the UK, is shown in action boat-UAV. According to a representative of BAE Systems, Les Gregory, "the technology demonstrated in the coming 10 years will change the face of naval operations." This portal writes
Flotprom
.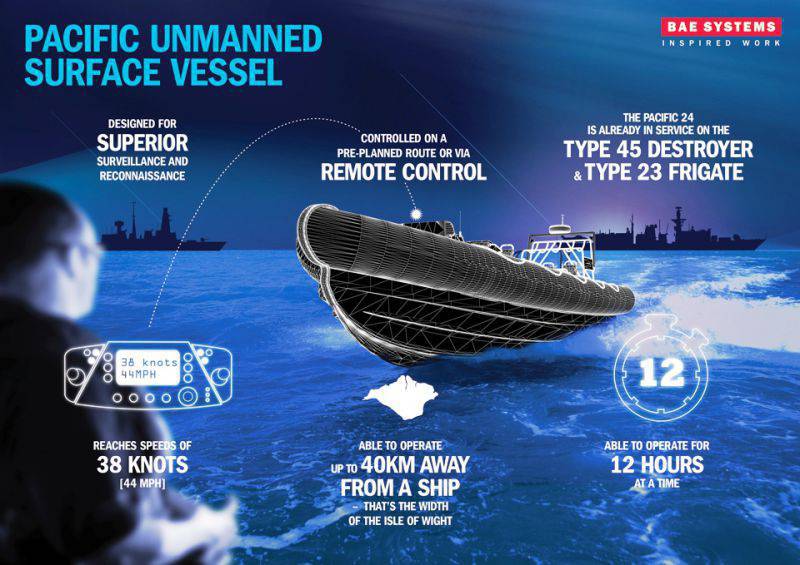 "The boat, which is a modified inflatable boat with a rigid board used in the Royal Navy, is able to work offline for up to 12 hours. It can operate both in the mode of a given program and with the help of a remote control. Its speed reaches 38 nodes. "
, - reports the portal with reference to the company-developer.
The boat is equipped with a navigation radar, a laser rangefinder and an infrared camera with an 360 gr.
"This technology is a very durable and fast unmanned boat that can perform a number of reconnaissance and observation functions, even when moving at high speed or with strong agitation," said Gregory.
According to him, "the boat control system, as well as the software was developed by the English company ASV".
Gregory noted that "in the future it is planned to integrate the management of boats-
drones
into the information systems of warships, as a result of which the boats will be able to operate at a distance of up to 40 kilometers from their carriers.
"These boats can be placed on the frigates" Type 23 "and destroyers" Type 45 ", as well as being built aircraft type" Queen Elizabeth "," - said a company representative.