The main military department of Ukraine published on its website the materials of the investigation of the events of August-September last year - the events near Ilovaisk. So that no one of those people who decided to familiarize themselves with the "document" had a desire to criticize the Ukrainian "commanders", the authors of the material decided to put all the points on the "i" already in its name. The name is as follows: "Analysis of the hostilities in the area of ​​Ilovaysk after the invasion of Russian troops 24-29 in August 2014".
In the "document" the words "Russia", "Russian Armed Forces" and "pro-Russian militants" are the most frequently used. And these words, according to the Ukrainian military, probably should be the key in the report, so that the perpetrators of the defeat of the Ukrainian army were identified not within Ukraine itself, but beyond its borders - "of course" in Russia.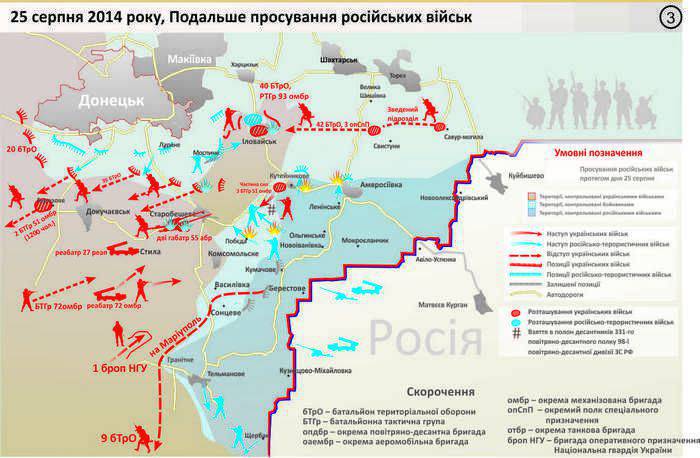 From the explanation to the "report":
Even before the seizure of the territory of the Autonomous Republic of Crimea and the city of Sevastopol by the Russian Federation and its mercenaries, as well as parts of the Donetsk and Lugansk regions, Ukraine faced an unprecedented information impact from the aggressor country. The scale of lies and insinuations became impressive even for specialists from the leading countries of the world who have extensive experience in the conduct of the information struggle.
Military experts regard such influence as an element of the information war, which, first of all, is aimed at discrediting the military-political leadership of the country and its armed forces. In this way, Kremlin propagandists are trying to disguise Russia's armed aggression against the sovereign state of Ukraine in our internal problems.
Further more:
Our armed forces destroyed the myth of the invincibility of the Russian army. The antiterrorist operation gave the country new heroes — soldiers and officers fighting in the East.

The death or injuries of the Ukrainian soldiers cause us pain and a fair hatred of the occupier. But even in righteous rage, we need to unite in the pursuit of victory over the enemy, to be able to resist the enemy propaganda and not lose a sober look at the events of the past.
This introduction alone speaks eloquently of the nature of all the material, which describes how the "valiant" Ukrainian army near Ilovaisk "was retreating to previously prepared positions, shaming the countless hordes of the Russian Federation." The full version of the report, which at that time called "weak interaction between the Ukrainian Armed Forces and the volunteer battalions" as the only flaw in the Ukrainian security forces, is presented at
website of the Ministry of Defense of Ukraine
.