Prime Minister of Ukraine Arseniy Yatsenyuk on his social network page
Facebook
published a video dedicated to local elections - in particular, local elections in the Donbass. At the same time, Yatsenyuk did not manage without the promotion of a kind of ultimatums with regard to the authorities of the DNR and the LC. On the obligations of Kiev to fulfill the Minsk agreements, ukropremier chose not to talk, but in the course of his speech raised the question of the whole list of requirements for Lugansk and Donetsk.
The main requirements voiced by Yatsenyuk were the following:
obligatory admission to participation in the elections of Ukrainian political parties (including neo-Nazis from the Pygnibokovskaya Svoboda and the Pravosekov Party);

coverage of elections "in certain areas of the Donetsk and Lugansk regions" by the Ukrainian media (that is, those that are actually in the pocket of Kiev);

conducting elections in the Donbass under Ukrainian law.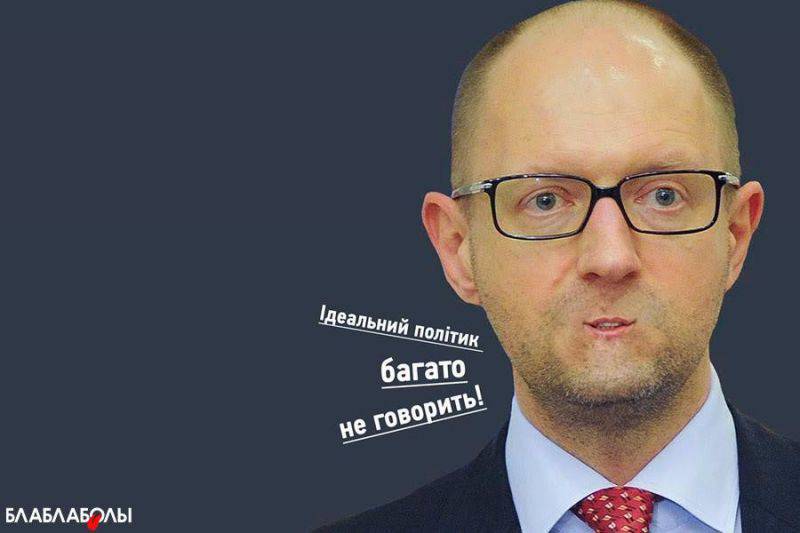 However, Yatsenyuk didn't tell the users of his page that, before making his demands to Donetsk and Lugansk, he himself had to fulfill a lot of obligations: to refuse the economic and political blockade of Donbass, to exchange prisoners using the "all for all" formula without any additional conditions, to conduct an amnesty for all those who participated in the armed conflict in the south-east, and finally withdraw the troops from the zone of contact, while respecting the cease-fire process.
Recall that the authorities of the LC and the DPR, making political concessions for the sake of peace in the Donbass, decided to postpone the local elections to February and April, respectively. Now Kiev must fulfill its obligations. And they look at the actions of Kiev, not only in Lugansk and Donetsk. Closely watching the actions of the Kiev authorities in Moscow, Paris and Berlin.