The head of the press service of the Eastern Military District, Alexander Gordeev, reported that the newest Su-35 multi-role fighters had completed a set of tactical flight missions in the sky over the Kuril Islands. The crews of the Su-35, which are in service with the formation deployed in the Khabarovsk Territory, were involved in the assignments.
Alexander Gordeev:
During the training flights, the Su-35 pilots performed elements of complex piloting, piloting a combat aircraft at extremely low and maximum allowable altitudes, and worked out the elements of conducting training air combat over the water surface.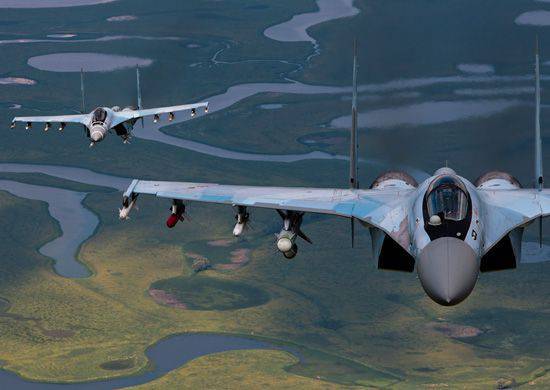 The head of the press service of the BBO, obviously trying to get ahead of any statements by the Japanese "partners" about their next bout of concern, noted that the air maneuvers were carried out without violating any international norms.
For reference: the Ministry of Defense of the Russian Federation plans to purchase 2020 Su-90 aircraft before 35. This generation aircraft "4 ++" should be the main fighter of the Russian Aerospace Forces. At Su-35 there is a whole complex of elements characteristic of military aircraft of the 5 generation.