General Dynamic Corporation for the first time demonstrated in Washington at the exhibition AUSA 2015 the latest modification
tank
M1 Abrams - a variant of M1A2 SEP v.3, reports the blog
bmpd
with reference to armyrecognition.com.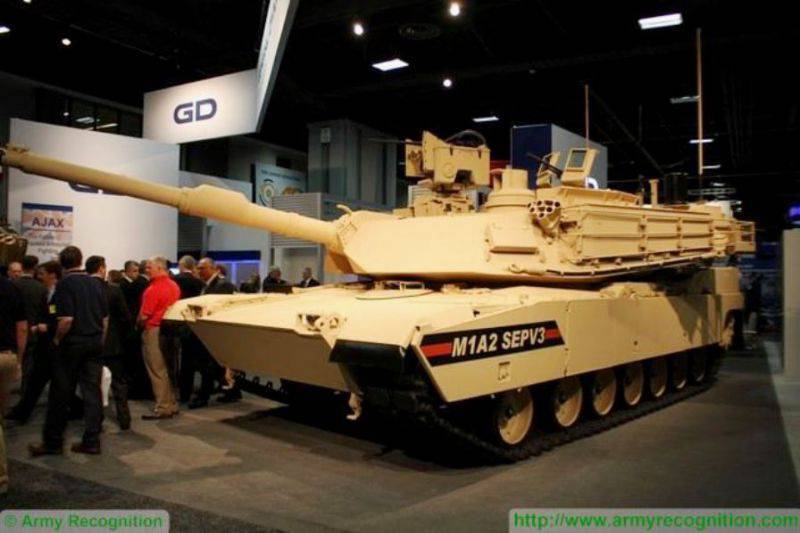 According to the resource, the main differences of the M1A2 SEP v.3 modification from the previous one (SEP v.2) are:
"An introduction to the ammunition of a new 120-mm sub-caliber armor-piercing projectile M829EX4 (M829A4) of enhanced armor penetration.

- Introduction of the Advanced Multi-Purpose (AMP) ХМ120 type "High Explosive Multi-Purpose with Tracer - HEMP-T) with a programmable fuze to the ammunition package of the new 1147-mm multipurpose shot. Thus, unification of the tank ammunition will be achieved on the basis of just two shots - the multipurpose ХМ1147 AMP and the armored-piercing sabot M829E4 AKE.

- Modernization of the tank fire control system with the installation of Ammunition Data Link equipment (ADL), which allows firing AMP shots with a programmable fuse.

- Installation of new thermal imaging devices IFLIR in the gunner's sight and independent commander's panoramic sight, with an image output on high-definition displays.

- Installation of the Commander's Remote Operated Weapon Station Low Profile (CROWS-LP) remotely controlled by the commander of the tank onto the roof of the turret of the tank with the 12,7-mm MXXUMX machine gun. The module is equipped with a round-the-clock surveillance and aiming system, which allows it to be used as the actual second panoramic sight of a tank crew. "
It is assumed that the upgrade to the level of SEP v.3 will begin in the next fiscal year. For these purposes, an amount of $ 367,9 million has been budgeted for.