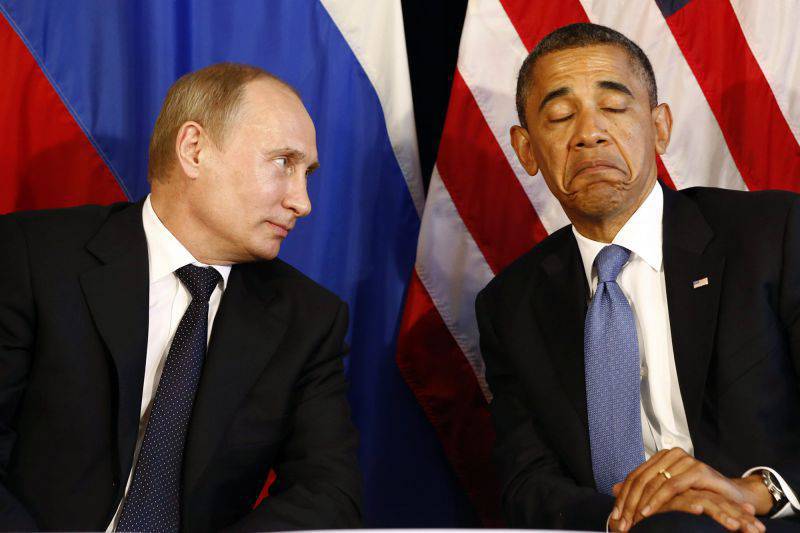 There is bewilderment everywhere - from Washington to London, from Berlin to Ankara. How can Vladimir Putin with his weak economy and a second-rate army constantly dictate the course of geopolitical events?
Sometimes politicians react with mockery: it is a sign of weakness. Or complacency: sooner or later he will regret his decision to intervene. Or anxiety: it will only exacerbate an already difficult situation. And finally, with humility: it is possible that Russia should cooperate in order to stabilize the situation, and its help will be useful to us in the fight against the Islamic state.
In fact, Putin is extremely capable of playing weak cards, because he knows exactly what he wants to achieve. He does not seek to stabilize the situation in accordance with our definition of stability. He defends Russia's interests by helping Syrian President Bashar al-Assad stay in power.
And the point here is not in an Islamic state. Any rebel group that opposes Russia's interests is, from the point of view of Moscow, a terrorist one. We watched it in Ukraine, and now we see it in a more aggressive form - bombings and cruise missiles - in Syria.
Putin cannot be called a sentimental man, and if Assad turns into a burden, Putin will happily agree to replace him. But for now, Russia believes that it (along with Iran) will be able to save Assad.
President Obama and Secretary of State John Kerry say that there can be no military solution to the Syrian crisis. This is true, but Putin understands that diplomacy in any case follows the path dictated by facts on the ground — and not at all the other way round.
Russia and Iran create the facts that are in their hands. As soon as this military intervention is exhausted, we must prepare for such a proposal for a peaceful settlement from Moscow, which will reflect its interests.
We must remember that Moscow defines the concept of success differently than we do. Russia has already demonstrated its willingness to accept and even facilitate the formation of so-called incompetent states and frozen conflicts from Georgia and Moldova to Ukraine.
And the quality of life of the local population does not matter. The Russian definition of success does not imply concern for the harsh living conditions of the Syrian people.
Putin's intervention in Syria is a reflection of the principles of the outdated policies of the great powers. (Yes, some countries continue to follow them even in the 21 century.) He gains a certain domestic benefit, but he does not at all try to transfer his internal political problems to the outside.
Russia's domestic policy and foreign policy have always been closely intertwined. The Russian government feels its strength on the domestic political scene only when it feels power on the world stage, and the Russian people believe it, at least for now. Russia is a great power, and its self-esteem is directly related to its influence in the world. What more can be said? When was the last time you bought Russian goods and it was not gasoline? Moscow again influenced international politics, and the Russian armed forces again set off on a foreign campaign.
It should also be understood that attempts to give Putin a lecture on his bad behavior are meaningless. The last time Russia regretted its foreign campaign was Afghanistan. But the Afghan campaign began after Ronald Reagan armed the Mujahideen with the Stinger anti-aircraft missile systems, with which they began to shoot down Russian military aircraft.
So what can we do? First, it is necessary to reject the argument that Putin merely responds to the world's turmoil. This view implies that Putin is simply trying to preserve the existing system in the Middle East in response to the chaos that the United States has provoked in Iraq, Libya and other countries. Putin really responds to events in the Middle East. He sees a vacuum created as a result of our doubts about the need to actively intervene in the affairs of countries such as Libya and uphold their positions in Iraq. But Putin as a defender of international stability? Unlikely.
Secondly, we must create our own facts on the ground. No-fly zones and safe havens for civilians are not "thoughtless" proposals. They had been used successfully before (they defended the Kurds under the regime of terror of Saddam Hussein for 12 years) and deserve serious consideration.
Refugees will continue to arrive in Europe until people feel safe. Moreover, the support of the Kurdish forces, the Sunni tribes and what remains of the Iraqi special forces is not at all nonsense. Perhaps it will even save our current strategy.
A determined desire to take all these steps will strengthen our relations with Turkey, which is suffering from the consequences of Moscow's intervention. In short, we must create a healthier military balance of power if we want to achieve such an agreement on a peaceful settlement that is acceptable to us and our allies.
Third, we must ensure that our military operations in Syria do not contradict the operations of Russia. This is unpleasant, and we shouldn't have been led to such a situation when Russia warns us to withdraw from its path. However, we must do everything possible to prevent a clash between Russia and the United States.
Finally, we must recognize who Putin really is. We need to stop talking about the fact that we want to better understand the motives of Russia. The Russians are well aware of their goals: they want to protect their interests in the Middle East by any means. What is this incomprehensible?