Vladimir Mikheev, Advisor to the First Deputy General Director of KRET, said that in 2015, the Radioelectronic Technologies concern (KRET, a member of Rostec) this year will transfer to the Russian Armed Forces the first batch of special containers, which make it possible for the Su-34 front-bomber to function as an electronic aircraft fight (EW).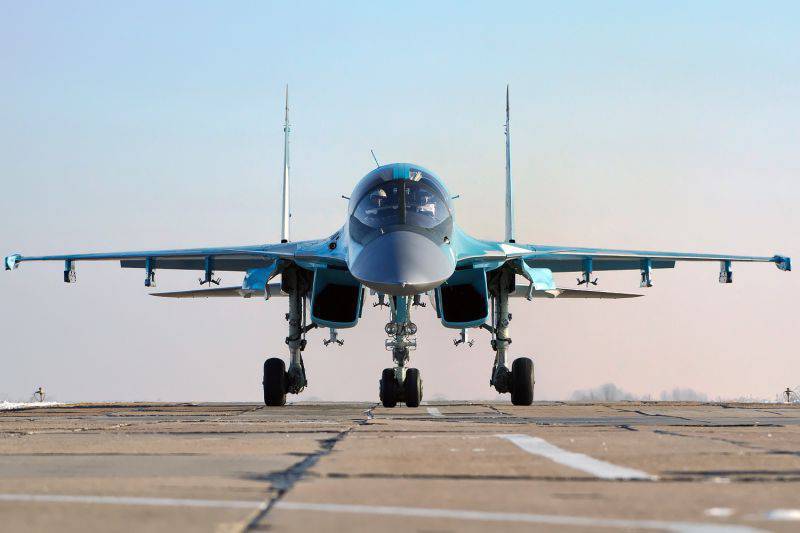 Currently, Su-34 airplanes are used to attack the positions of militants of the Islamic State terrorist group (IS) banned in the Russian Federation in Syria.
"At the wing tips of all Su-34, multifunctional E-B systems Khibiny-10В are installed. This year, the Defense Ministry will receive the first batch of so-called stackable stackers installed under the fuselage, which will make it possible to turn a standard Su-34 into a specialized electronic warfare aircraft that can protect not only itself, but also ensure effective radio-electronic suppression of radar systems and anti-aircraft missile systems, aircraft radar patrol and so on - that is, protection and other aircraft of the group ", - quotes Mikheev RIA"
News
».
Mikheev stressed that in this way the Su-34 can be used not only as a combat aircraft, but also be able to conduct electronic warfare.
"At the same time, the Su-34, used to conduct EW, will still be able to perform the function of a bomber," the agency source said.
The main purpose of the Khibiny multifunctional anti-missile system developed by KRET provides individual protection of aircraft against missile attacks by enemy fighters and ground-based air defense systems.