I was lucky: I managed to meet with Andrei Mikhailovich Mikhailov, a resident of Lebedyan, before he went to Michurinsk, to his daughter. He left, taking with him, besides the most necessary, only a coat, a hat, and three priceless folders with clippings from front-line newspapers. And a year after our meeting died suddenly.
Andrei Mikhailovich began collecting his collection of military posters in 1942 year.
The soldiers were digging trenches when enemy planes flew and started bombing. Andrei and his friend Ivan laid to the bottom of the trench.
- Shoot, bastards! - Ivan groaned and suddenly took out a piece of paper from behind his bosom. - Take Andrei. If something happens - there will be at least some memory about me.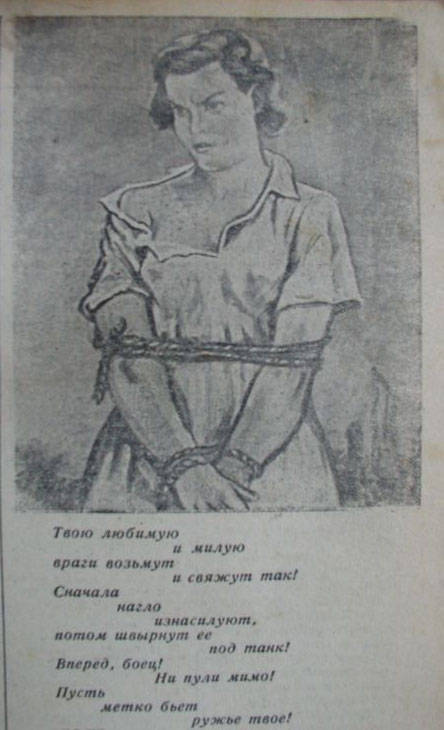 Ivan died a few days later. And only then, Andrew decided to look at the sheet - it was a poster cut from the front-line newspaper "Soviet Guardsman". A girl with her hands tied was painted on it — a copy of Fyodor Antonov's poster "Fighter of the Red Army! You do not give a favorite to shame. "
From this collection began.
Andrei Mikhailovich has always been very concerned about the question: who exactly does the artist draw? After all, as a rule, each poster hero has a prototype.
For example, in the famous image of the Motherland (the poster "Motherland Calls!"), The artist Irakly Toidze embodied his spouse Tamara. 22 June 1941 of the year she first heard a message about the war. I was very scared and ran into the workshop, shouting "War!"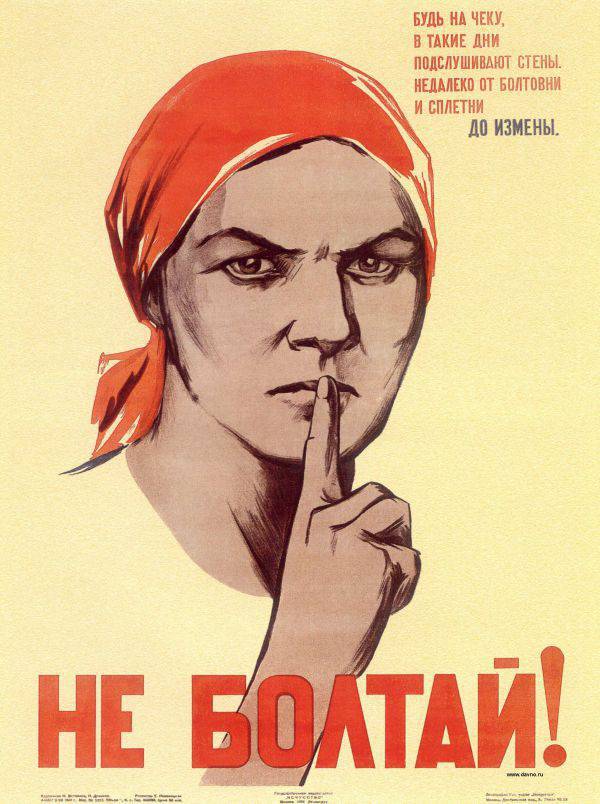 - Stop! - the artist immediately ordered her and began to quickly make sketches.
Apparently, the expression on Tamara's face, her posture was so eloquent that they vividly embodied the pain of wives, sisters, mothers.
And remember what strength this poster had! Andrei Mikhailovich, who grew up in an orphanage, confessed to me that he often imagined that his native mother was depicted on the poster. And it gave him strength.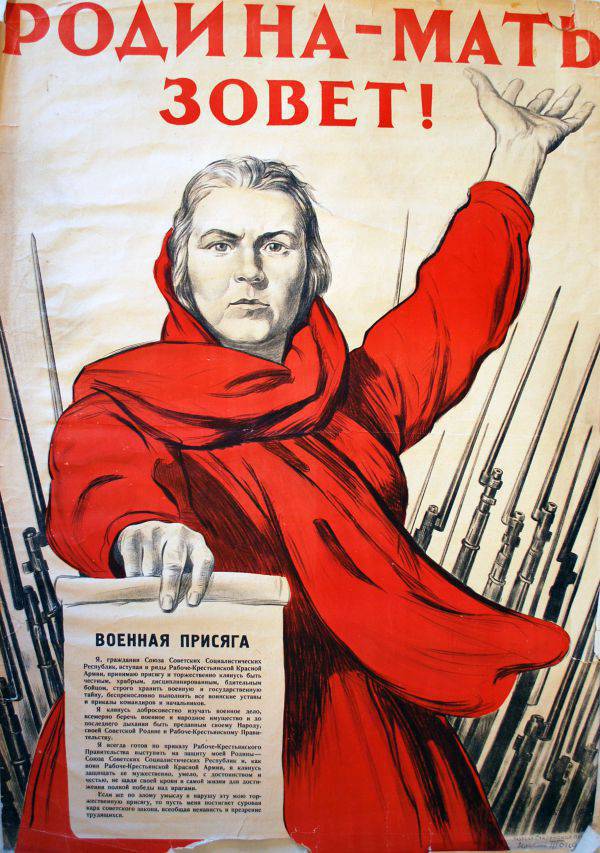 Or
история
creating a no less famous poster "Don't chat!" by Nina Vatolina. The artist herself did not come up with the idea herself, she was given the task to arrange the lines of Samuel Marshak "Be alert! On such days, they overhear walls. Not far from chatter and gossip to treason. " But here is the face, the image - it was not until one day in the bakery Vatolina saw in the queue a strict woman who silently, calmly and very firmly did not miss some impudent boy.
- You are just a fortress! - someone joked.
And the artist understood: here she is, this woman, the symbol of our country ..
True, I did not see this poster in the Mikhailov collection. Just came to the word story.
But back to the collection.
In the 16 Guards Corps, in which Andrew served, postmen rarely visited. But always - with a large, crowded bag. News from mom Mikhailov folded in his left breast pocket. And in the right - posters cut from newspapers. Soon threads began to stick out of the seams of the pocket. But Andrei wouldn't want to part with his collection, because each illustration had its own story that was not similar to the others.
... In the summer of 43-his guards corps stood on the Kursk Bulge. On one of the hot July nights, Andrei could not sleep at all - he was worried about his mother, from whom he had not received letters for a long time. And suddenly I heard someone's quiet, but heated argument. Two of his fellow soldiers talked: Leonid Karnaukhov and Igor Ostapchenko.
"Why spoiled the thing?" - Igor was indignant. - What now? The ink gets dirty!
"You see, inspiration ..." Leonid was being embarrassed.
It turned out, Lenya "spoiled" a small piece of linoleum, which Igor usually carried with him - he put it under his head to make it easier to sleep. How and where I got linoleum in the war, Igor, now we can only guess. But it is not about this, but about the fact that Leon has spoiled it. And how spoiled! I drew on it the handle of three Russian soldiers and a defeated German.
- Yes, this is a real engraving! - Andrew admired, seeing such an unusual poster. - Let me take it to the front editorial office, let it be published.
The figure is really subsequently printed. And Leonid Karnaukhov soon died.
At the poster "All hope for you, red warrior!" The story is very sad. This poster was also printed in one of the front-line newspapers, but Ivan did not have time to put it in his pocket.
During one of the fights, his friend Vasily Korvyakov was mortally wounded. Vasily lost a lot of blood and knew that he would die: a splinter pierced his stomach.
- Andrew, I would have a smoke in the end, - he asked.
And after a pause, with difficulty breathing, he added:
- All hope for you! ...
Tabak Andrew found. A twisted cigarette, tearing a piece of the poster. And the poster is also called that ...
Andrei Mikhailovich went through the whole war. He fought for Stalingrad, liberated the Baltics, conquered East Prussia. He was awarded the Order of the Patriotic War, I and II degree, the medal "For Courage". After the war he worked as a geologist, traveled all over our country, looking for rare minerals. But when I called him to arrange a meeting, Andrei Mikhailovich was very surprised:
- What did I do extraordinary?
He did not show his collection to anyone. More precisely, once showed a grandson of a classmate. He looked indifferently and advised:
- Throw it away, grandfather. In old newspapers, cockroaches are always turned on.
Actually, that's all ... Andrei Mikhailovich said nothing to the boy. But the collection, of course, left. And what happened to her now, I do not know.