On September 30, a solemn ceremony was held in Mumbai to accept into the Indian Navy the second of three destroyers designed and built in India with a displacement of 7500 tonnes of the Calcutta class (project 15А), called Kochi, reports
Center for Analysis of the World Arms Trade
.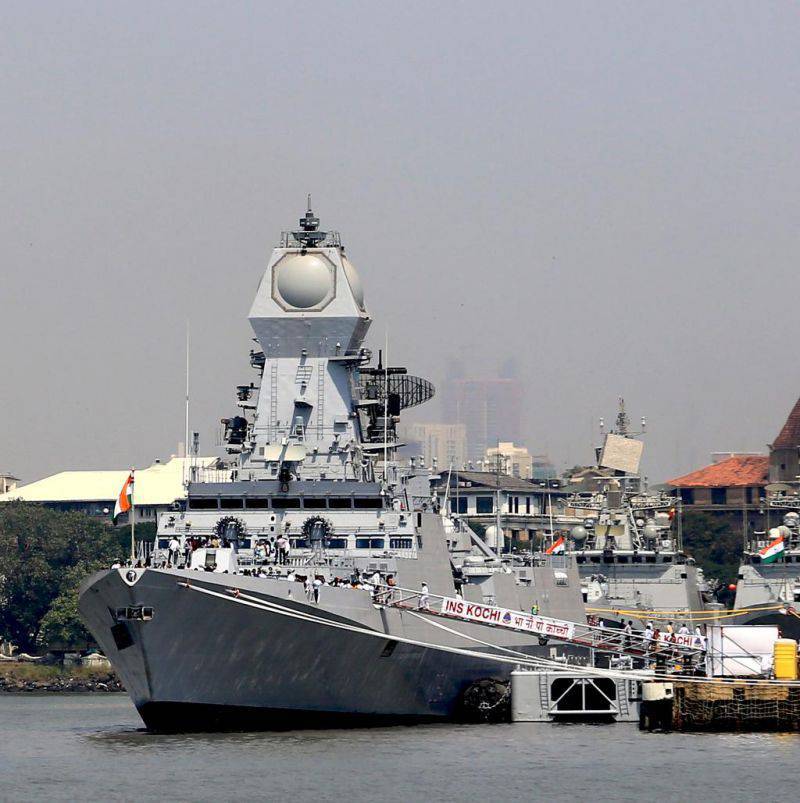 The new ship is an improved version of the Delhi class destroyers, which are already in service with the Indian Navy. Three ships of this type - "Delhi", "Mumbai" and "Mysore" - were built under the "Project-15" program from 1997 to 2001.
The lead destroyer Calcutta was laid down in September 2003, launched in March 2006, and was put into service on August 16, 2014. The construction of the second ship - "Kochi" - began on October 25, 2005, launching took place on September 18, 2009. The third destroyer called Chennai should be part of
fleet
at the end of next year.
The length of the ships of the Calcutta class is 164 meters, width - 17 meters, displacement - 7500 tons. Their maximum speed is 30 nodes. The crew consists of 390 people, including 40 officers.
These destroyers are equipped with the Brahmos supersonic cruise missiles manufactured under the license of the 76-mm Oto Melara artillery, four Russian Smerch-630 artillery complexes, as well as RBU-6000 rocket-launch bombs and two-gauge systems and 100-amps and 2-socket systems and 2-arches with 2-artillery systems and 2-socket-2/2-artillery systems and 2-to-10, 2-artillery systems, and 2-artillery systems, as well as 2-artillery guns and 2-artillery guns and 2-artillery guns. to combat submarines. In addition, they can carry two multipurpose Sea King or Chetak helicopters. To control the weapons used by the Indian system CMS-2A.