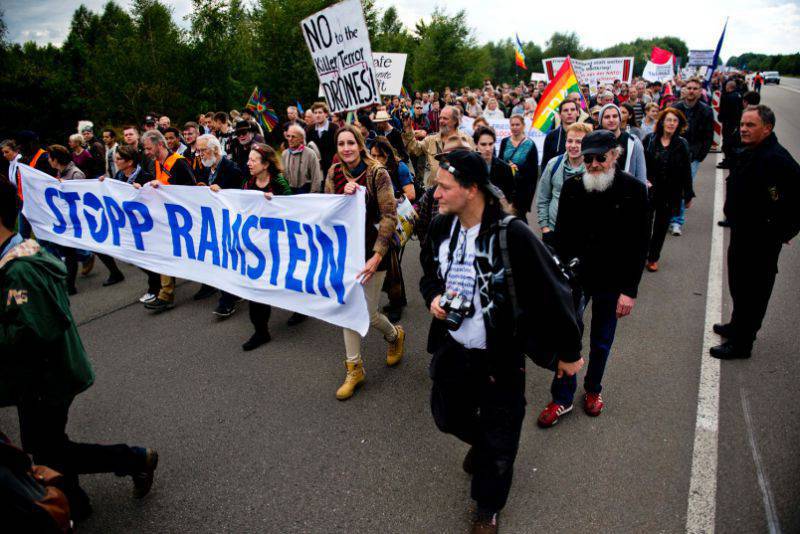 Europe is finally beginning to see clearly, to grumble and stubbornly resist the American military presence. This trend still has a fairly calm and "law-abiding", but, nevertheless, increasing character. It is worth noting that the negative attitude towards a foreign military presence is most clearly manifested today in the so-called prosperous European states, in particular, in Germany. A demonstration in this respect was a demonstration that took place on September 26 in the immediate vicinity of the Ramstein air base. Several hundred participants took to the streets calling for US servicemen to leave the country.
The demonstration was organized by the activists of the "Stop Ramstein - no war for drones" group, and among its participants were representatives of various political forces from all over Germany. It is known that one of the objectives of the event was to protest the alleged use of a satellite relay station at the air base as part of the US program to use drones abroad. The group has collected over 5 thousands of signatures for closing it.
For comparison, the population of the city of Ramstein-Miesenbach, near which the air base is located, is only eight thousand people. Apparently, the German military and political leadership will be difficult to ignore the opinion of almost the whole city.
Quite a large part of the population that does not support the American military presence in the country, according to the organizer of the demonstration of Brown District, is in favor of the complete closure of this US military facility in Germany. In an interview with the newspaper Reinpfalz, Brown, in particular, called the military base "an anachronism of the Cold War times."
The activist group "Stop Ramstein - no to the drone war", as well as many other German pacifist public movements rightly consider the position of the country's leadership wrong, which, in their general opinion, makes Germany "a starting point for the global wars of NATO".
One can not disagree with the arguments of another representative of the organizing group of protests, Pedram Shahiyar, who said that the base in Ramstein is the largest military object of the United States abroad. During the war in Iraq, it served as the main "transit point" for the US military. In addition, it is believed that this facility is the main center of US operations for the use of unmanned aerial vehicles, as a result of which, according to some data, between five and ten thousand civilians died. Therefore, Germany, according to German activists, automatically becomes involved in all these victims, as it provides logistic and financial support for the operation of the air base.
Such manifestations of pacifism, and simply common sense, are not yet known to other NATO member countries, for example, the Baltic countries, which are actively inviting the United States and the Alliance to increase their military presence in their territories. Whether political blindness and deafness, from which Old Europe is cured, are contagious, or whether it is beneficial to someone ...