The chairman of the Council of State and the Council of Ministers of Cuba, Raul Castro, in one of his speeches at the UN, said that Cuba sharply criticized the continuing expansion of NATO. In addition, Castro said that Cuba, like no other state in the world, is familiar with what it means to live in conditions of economic and political sanctions for a long time, and by definition cannot approve the sanctions imposed by the United States and the European Union against Russia. From such a statement by Raul Castro, it can be concluded that during the last meetings with US officials, the official Havana was asked to support anti-Russian restrictive measures.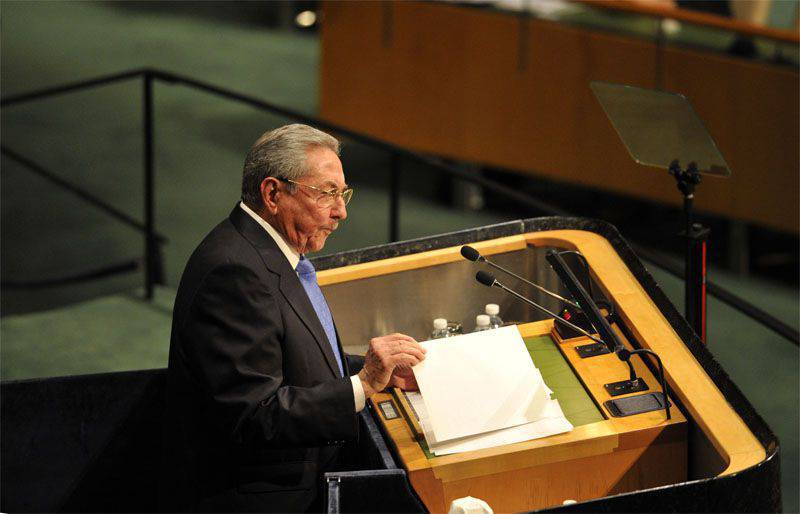 In addition to the words of criticism of NATO and other countries that supported sanctions against Russia, Raul Castro noted that today "some countries" are trying to announce that they are allowed to perform any actions aimed at changing the authorities in independent states. According to the Chairman of the Council of Ministers of Cuba, this is unacceptable, since in fact it eliminates such a thing as "state sovereignty". Raul Castro noted that if "certain foreign states" stop interfering in the internal affairs of Syria, trying to change the political system, the Syrians themselves will soon resolve the contradictions.
Raul Castro spoke out and about Guantanamo. His words leads the news agency
TASS
:
Full relations between Cuba and the United States can be restored only if the United States lifts the economic blockade of Cuba and returns the occupied territory of the Guantanamo naval base.