The Federal Agency for Air Transport of the Russian Federation (Rosaviatsia) is preparing to notify Ukrainian colleagues of the measures taken in response to the prohibition by Kiev to make flights to Ukrainian airports to Russian airlines.
Interfax
, referring to the Ministry of Transport of Russia, reports that similar measures for Ukrainian companies that transported passengers to Russian airports will also be introduced on October 25.
Ministry of Transport of Russia:
This measure will be a response, a mirror on the message of the State Aviation Administration of Ukraine, which unilaterally 28 of September, in violation of the existing rules and regulations on air traffic, informed a number of Russian air carriers that since the beginning of winter navigation, namely from October 25, it bans air travel between Russia and Ukraine.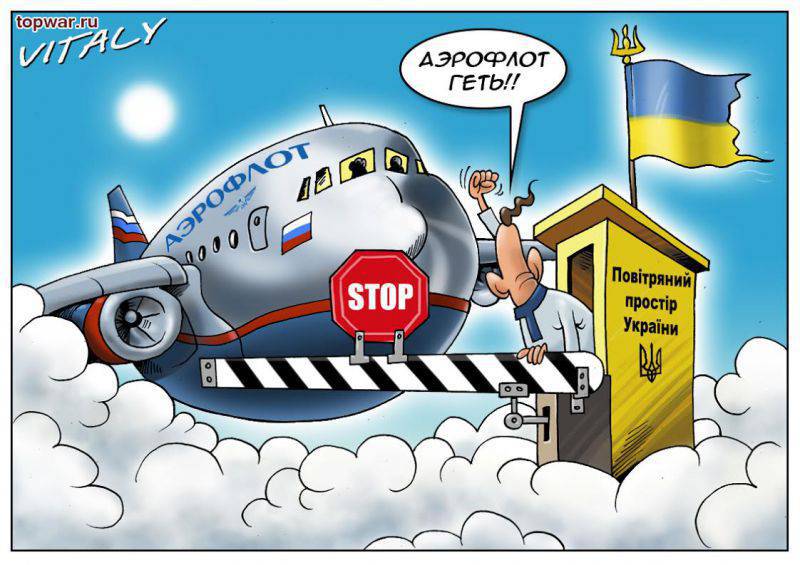 Separately, it is reported that the decision to ban the use of airspace for Ukrainian companies was made on the basis of an instruction from Russian Prime Minister Dmitry Medvedev.
On the eve of the head of the company "International Airlines of Ukraine" Yevgeniya Satskaya stated that the decision of the official Kiev may lead to the fact that Russia will prohibit all Ukrainian airlines to use their airspace as a response measure. As you can see, this is exactly what happened. And who punished Kiev with its sanctions? ..