What a pity that sometimes serious events for smart people try to spoil some clowns. Yes, at the corporate party a clown is a necessary thing. But we are talking about the UN General Assembly. But alas, there were those who decided that a clown uniform could be arranged at such a serious event.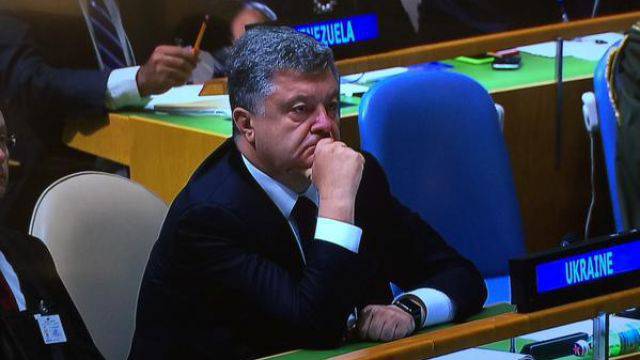 We are talking about our old friend Petenka Poroshenko. Here in the good old days for people like him, courses were organized, such as a boarding house for noble maidens. Where taught that it is possible and what is not.
Peter Lekseich managed to break so many unwritten diplomatic rules in one day, that if he were a real political figure, I would say that he is a political corpse. But since Mr. President of the country 404 is already playing in the category of political zombies with limited functionality, that's fine. Who forgave, who did not notice. All are waiting for Putin ...
In general, Petenka, as always, confused the CD with the program. Thank God, on each disk the program "Devotionally smile and clap to Obama" is duplicated. What he, in fact, did. With a twinkle and enthusiasm. Everything was fine here.
But then it went crashing. I don't know who is to blame, but Petro came to the meeting with all the code and got into the place of the delegation. In general, there is a rule in the UN - if you do not speak on this day and there is no vote, then you have nothing to do in the hall. There are special rooms where you can sit and watch on a good screen everything that happens in the meeting room. That all decent people, in general, do.
But what is the diplomatic rules for representatives of the Square? Ha!
A day earlier, Petro was late for his speech at all. It is not clear for what reason. But nothing, got in front of Lavrov. Like anything, aggressor, you will survive. And he performed not in Ukrainian, but in English. Although the UN Charter says that representatives speak in the language of their country. Here, of course, the question arises, does Poroshenko know Ukrainian so much that his UN translators understand. After all, even a Pole in Polish spoke.
Lavrov, of course, did not experience such perturbations.
And in the hall a whisper went. Africans began to ask, hey, like, guys from Angola and Namibia, is it not a miracle from your edges? Who has sinned with whom? Africans diligently otmazyvatsya, South African President Zuma rescued. He said that white English-speaking monkeys in South Africa had never been found. Pure import option. So do not touch Africa with your hands.
And so, on the second day, the Ukrainians came with the whole delegation. But, apparently, they overdid it with "ollenclyuziv" because of the joy that they confused the program again.
No, the first part worked well, but before the advent of Putin, something clicked and went wrong. For svidomye decided that they were at home. In the Rada. And then Putin ...
Well, it would be fine if you tried it with holy water or the sign of the cross. Suddenly Putin imagines them?
But instead they got up, unfolded the Ukrainian flag and quietly, without special effects, went to the exit. Neither shouts "Putin is evil!" Nor "Glory to Ukraine!" Apparently, the reflex worked, that if Putin in the Rada - that means everything. The maximum that shines is the government in exile.
That expelled.
What then Petenka otpaivat, I do not know, but came to himself. At breakfast, he again smiled warmly and radiated like a power unit at the Zaporozhye NPP with substandard TVELS American. And when Obama made a pen for him, everyone around thought, everything, right now, again, will fly either in dance, or with a flag.
But apparently, the flag has already been taken by kind people.
Yes, Poroshenko's debut did not come out. But what experience ...
I am not a man of evil, in general. But the picture that Petro painted in the UN meeting room is only in the Rada, I hope to live and see.
And I would watch and watch Poroshenko and his henchmen from the Rada leave the beaten jackals, hiding behind a faded two-colored rag.
I hope to live and see. At least on TV.
And the most sorrowful thing is that no one, except the medical staff, guards and a pair of journalists hurrying into the hall, was noticed by anyone.
Everyone was waiting for Putin.