The dream of President of Ukraine Poroshenko came true - he was let into the podium of the jubilee UN General Assembly, where he again revealed that Ukraine is leading a "merciless war with the aggressor." The mere mention of a "merciless war" to the Ukrainian president seemed insufficient, and therefore his thought developed in the financial direction of the military issue. Poroshenko at the UN General Assembly announced that Ukraine had to spend millions of dollars on military operations and army training on 5, so that the "aggressor" would not break further into the European Union.
Petro Poroshenko (publication on his page in
Facebook
):
As a result of the annexation of Crimea by the Russian Federation and the aggression in the Donbas, thousands of people died.
Every day of the war in the Ukrainian Donbas costs us about 5 million US dollars, which we could invest in the process of continuous development.
The message is approximately as follows: "if it were not for Russia, now the economy of Ukraine would have developed rapidly, and so it is necessary to spend money on a military operation against the aggressor."
In the course of the same speech, Poroshenko announced (once again, by the way) that the Ukrainian army is "one of the strongest on the continent."
Poroshenko:
We paid a big price - about 2,5 billion dollars in an army to defend freedom and democracy around the world. Ukraine is an outpost for the protection of peace and democracy.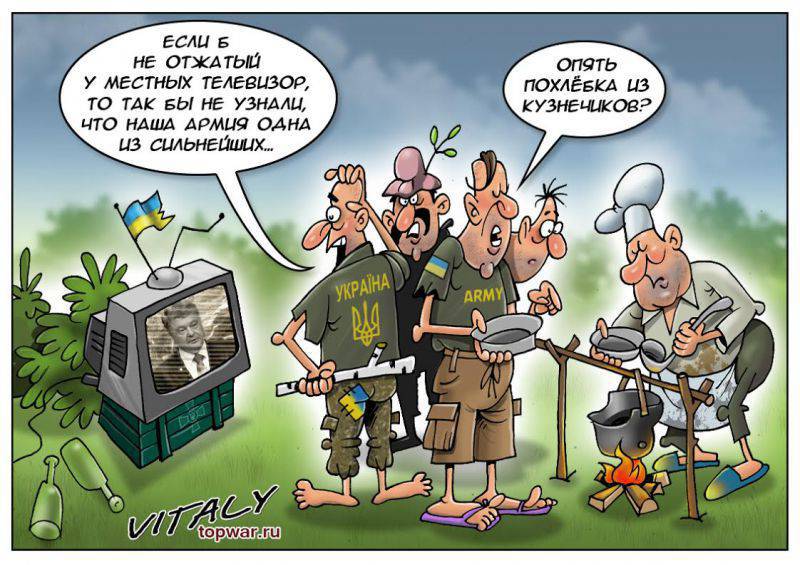 After that, Poroshenko opaquely hinted that he expected new financial income from "friends":
Investing in Ukraine is an investment in the security of the whole of Europe.
At the same time, Poroshenko did not tell the audience about how many millions of dollars of "investment" settled in his pocket, as well as in the pockets of all those Ukrainian figures who continue to do business in the bloody operation in the Donbas.