Foreign armies still use hundreds of ZSU-23-4, which are still an excellent low-cost option for any country. Therefore, the task of upgrading the machine veteran is still relevant. According to military experts, the best option would be the Russian ZSU-23-4М4 "Shilka-М4", recently demonstrated at an exhibition in Nizhny Tagil, reports
"Messenger of Mordovia"
.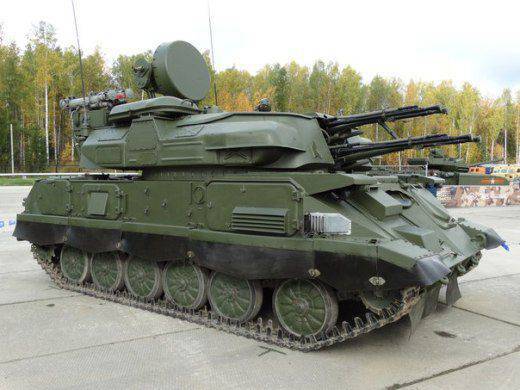 According to the creators of the machine, the main purpose of the ZSU-23-4М4 "Shilka-М4" is air defense of ground forces units in all types of combat operations, as well as for air defense of objects.
ZSU can fight with low-flying aircraft, including hovering, cruise missiles, unmanned aerial vehicles, lightly armored ground and surface targets, as well as targets that are dropped on parachutes under conditions of interference and various climatic conditions.
It is possible to integrate into a single military information structure of air defense. The machine is equipped with: 23-mm quad small caliber installation, two universal starter modules. Ammunition - 2000 23-mm shots, as well as 4 missiles to the Strelets complex.
In a single air defense system, an air target can be detected up to 34 km. The maximum target tracking when using a radio channel reaches - 10 km, the minimum - 200 meters.
The machine has the ability to shoot down air targets that fly at a speed of 500 MS, the minimum height of the target tracking is 20 meters. The consumption of shells - 300-600 shots, the probability of hitting the target in one span at the expense of shells to 300 pieces - 0.5.
The range of damage in range is 2500 meters, in height 1500 meters, rocket armament in range 5000 meters, and height 3500 meters. Crew - 4 person.