Ocean rescue ship "Igor Belousov" completes the passage of factory sea trials, passes
RIA News
the message of the head of the service of rescue operations of the Navy Damira Shaikhutdinova.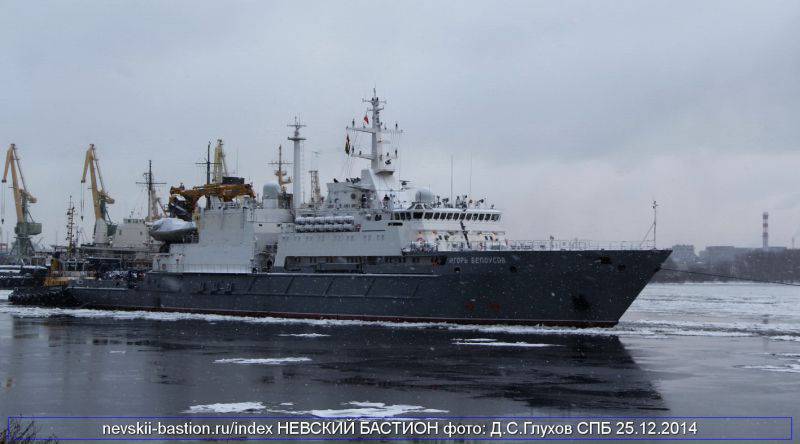 Earlier it was reported that the new ship will join the Navy at the end of 2015.
"We are completing factory trials of the new rescue ship Igor Belousov. At the moment it comes to Baltiysk after the next stage of testing. On Monday, she will go again (to the sea) to continue these tests, "the Navy representative said.
According to him, "after the vessel's composition
fleet
"It is planned to master promising Russian diving equipment on it."
"At" Igor Belousov "a diving complex of foreign production. On this vessel, we are planning to master domestic developments that were carried out before the 1991 year - we had the experience of three-person diving descent to 500 meters in the laboratory of the barocomplex. We have developed diving modes for these depths. After the reception of the ship "Igor Belousov" in the Navy, we will begin to explore these depths, "explained Shaikhutdinov.
He noted that "the result of a great future work should be the creation in Russia of the appropriate diving equipment and diving complex."
If we talk about today, then "the Russian industry has already fully mastered the creation of modern diving equipment for diving to depths up to 60 meters," said Shaikhutdinov.
Help Agency:
"" Igor Belousov "is the lead rescue ship of the 21300С project, built for the Russian Navy at the Admiralty Shipyards in St. Petersburg. It is designed to assist crews of emergency submarines lying on the ground or in surface position, supplying air, electricity and rescue equipment to submarines and surface ships. The displacement of the vessel is 5 thousand tons, the length is over 100 meters. "