Many tormented by the question: whether to be New Russia? Some shout: Novorossia was leaked, others say no. Meanwhile, Kiev recognized the DNI and LC.
Poroshenko signed a decree "On the use of personal special economic and other restrictive measures," thereby in fact recognized the Donetsk and Luhansk people's republics. This was stated by former deputy of the parliament Vladimir Oleinik.
"The list includes almost the entire leadership of the DPR and the LPR, indicating the positions they occupy in these republics. Thus, the President of Ukraine Poroshenko and the Council of National Security and Defense of Ukraine, by their decision and decree de jure, recognized the subjects of international law formed by the DPR and the LPR, "Oleinik wrote on his Facebook page.
The politician is also confident that despite the temporary difficulties in relations between Kiev and the people's republics, the above fact will play its role, and in the near future the leadership of Ukraine will have to negotiate with the DPR and the LPR to implement the Minsk-2 points.
Google also recognized DNR il LC.
At the request of the "Capital of the DPR", the Google search engine issues a map of Donetsk and writes "Donetsk People's Republic / Capital".
Director of the Center for Eurasian Studies, Vladimir Kornilov, drew attention to this fact.
"While Russia is waiting, Google has already recognized Donetsk as the capital of the DPR. Whom Poroshenko from Google will declare persona non grata? ", - the political scientist wrote on the page on Facebook.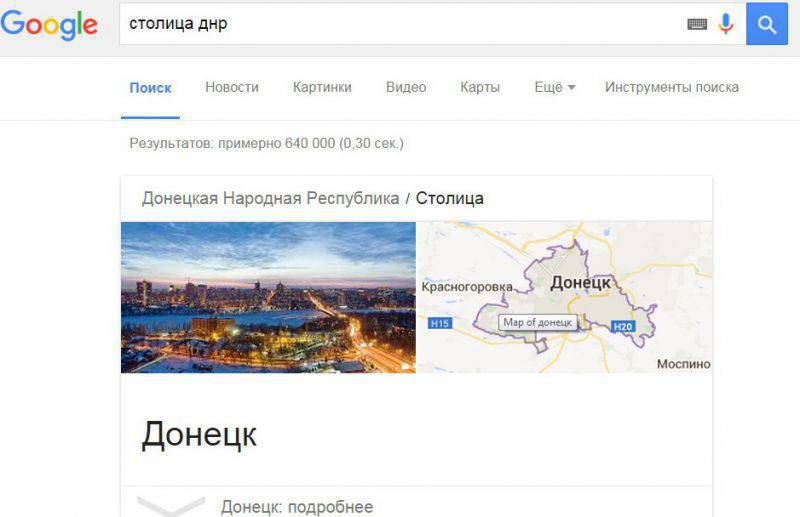 A similar situation with the LC.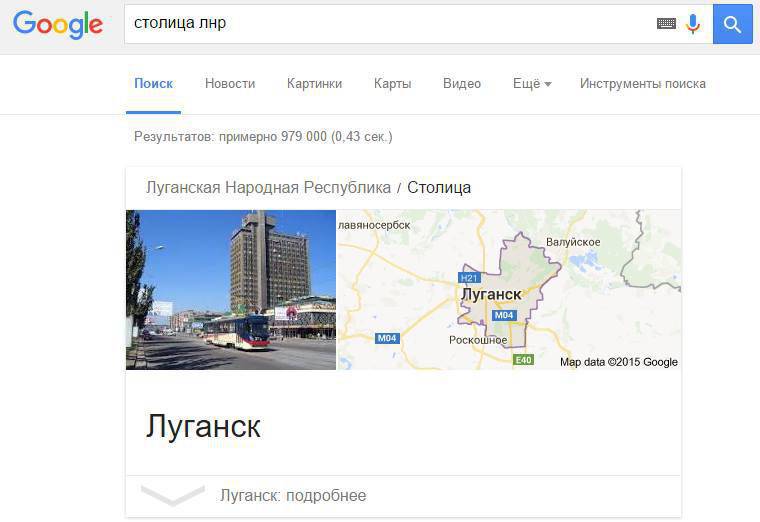 Good gift Svidomo. What will they do next? Accuse Google of separatism and refuse to use?
It is time to stop yelling and understand: New Russia is to be! Like it or not, it will not change. But Ukraine will not be, but that's another
история
.
Links:
http://x-true.info/25334-vladimir-oleynik-kiev-de-yure-priznal-narodnyy-respubliki.html
http://x-true.info/25400-google-priznal-dnr-i-lnr.html