In the South Korean edition
The Korea Herald
went out to a material entitled "Thailand acquires T-50 aircraft." In Russia, this message caused a violent reaction, since not everyone began to read the material translated from the Korean and decided that we were talking about the Russian PAK FA (T-50), which in Russia itself is not yet being put into service. However, those who decided that talking about Russian 5 generation aircraft can be calmed down, as the Korean media published material on T-50 aircraft manufactured in the Republic of Korea. Speech on the T-50 "Golden Eagle" from
Korea Aerospace Industries
.
The Thai Ministry of Defense has signed an agreement with the Korean side for the supply of 4 training combat aircraft from Kazakhstan. The Korean newspaper reports that Thailand is going to gradually replace the Czech Aero L-39ZA-ART planes available to the country's air forces, which were delivered to the country in the early 90's.
Airplanes T-50 "Golden Eagle" Koreans developed together with the American company
Lockheed Martin
. The first operational flights of these aircraft Seoul made in 2002 year. In addition to South Korea, these aircraft are operated by the Indonesian Air Force. In addition, contracts for the supply of T-50 to Iraq and the Philippines have already been concluded.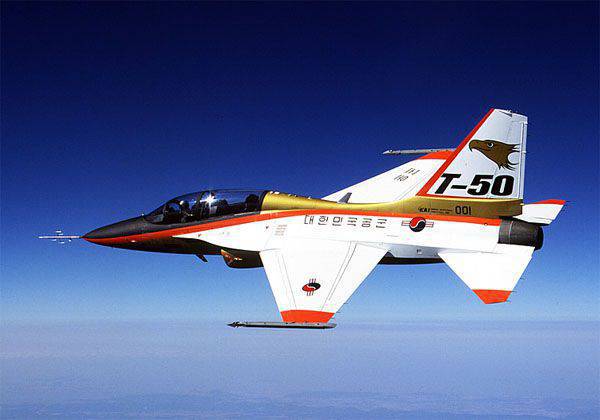 Characteristics of the aircraft:
The crew - 2 man, the mass of the "empty" aircraft - 6,35 t, the total take-off weight 13,5 t, maximum speed - about 1500 km / h, practical range - 1850 km, practical ceiling - 14630 m. The plane can be armed with adjustable and uncorrectable bombs, air-to-air and air-to-surface missiles. There is the possibility of arming T-50 unguided rockets
Hydra 70
.
The cost of one aircraft is estimated at about 25-27 million dollars.