If you ask any sensible person, which country is the most-most in Europe, I am sure that the majority will say with confidence - Germany. The Germans, as it were, from time immemorial, everything should be "gut" and "in ordnung." And, in general, this is true. But not without reservations.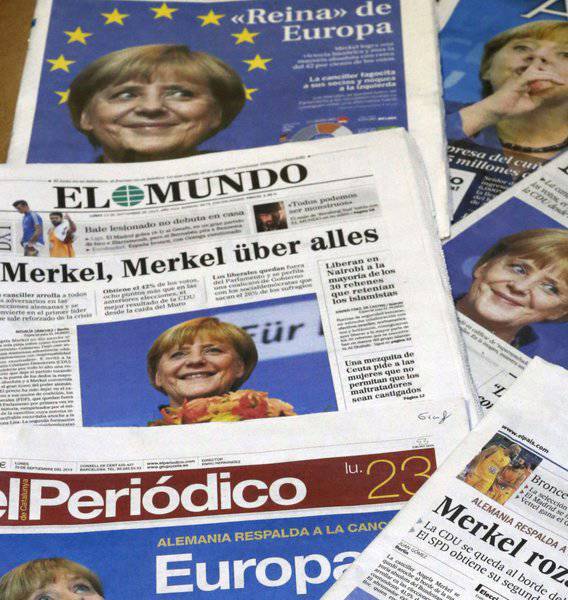 Yes, today, in terms of development, Germany is the obvious leader in Europe. The fact that the country is occupied by more than fifty-thousandth contingent of American troops is clear to everyone. Especially the Germans. And the fact that the gold reserve seems to be in the States. And the fact that the Germans will never get it back. And wiretapping phones of the entire German government. All this speaks of one thing - Germany has one who is superior. And this, as you understand, is definitely not a god.
About such trifles as participation in anti-Russian dances under the harmonica and banjo, we will not even begin to talk. And so everything is clear.
The conclusion is clear: as the owner will command, so Frau Merkel and jumps. And to go to her, to be honest, nowhere else. Because such an order was instituted long before her reign.
But her cunning twists on 9 May was appreciated by many. And to swear with Russia in any way, and not to go. So I had to dodge my grandmother Angela. But it seems to have turned out, counted.
And in Europe, which is typical, Germany is a completely different phenomenon. And if the eternal question of the clashes between the foreheads of the interests of Russia and the United States is not worthwhile, or if it is almost not worthwhile, the picture is completely different.
Like it or not, but Germany is the first in all hands at the bowl. And this could not play its role. In Europe, the Germans above all. And more significant of all.
But it would not be worth justifying this by serving the hypothetical host, no. The Germans are a rather stubborn nation, and, most importantly, pragmatic and intelligent. And they realize their strengths with efficiency, which many countries need to learn.
If you look south from Germany (figuratively, of course, there is everywhere south), then we will see there many willing to become with Germany on one level in terms of access to the master's bowl. Like, we are all as good as the Germans, we are right now against this Russia, let's go, hoo! Sticks in wheels, pipes on shore, gas back into the wells.
Well, yes, they were gathered by force threateningly, and the "South Stream" was dragged into oblivion. Glory is glorious, and all that.
Okay, in Russia people are not proud. We began to be friends with Turkey. Well, the Turks also decided to fill the price. That one is not so, then another. That memorandum did not wave the ink, then the Prime Minister did not bow three times to his feet. In general, not entirely convenient topics have gone.
And so, after looking at all this, the Germans decided to take, and zababahat another "Nord Stream". Second. And why, in fact, not? And it's okay that the first one is only half full, right? As practice shows, there are situations when a lot of gas does not happen.
And then everyone started to fuss. But how!
Is from what. The whole of Eastern Europe is in full "overflight." Poland, Ukraine, Bulgaria ... The Poles were already howling. Slovenes are also concerned.
Perspective is not pleasant. It's one thing to take Russian gas from Russia for 250 dollars (roughly speaking), and quite another is the same Russian gas, but already from the Germans. But the Germans will not miss their half-niche and thrown over. Business, nothing personal.
Germany, as the main European gas hub, is still a nightmare for those who so strongly put poles into the wheels of Russian projects. And the fact that the "Northern-2" will be built, and even faster and cheaper than the "Turkish", made the Turks move. But the moment is as if missed.
The US, through various EU commissions, did everything possible to sabotage South Stream, and succeeded. But did they really think that this would end? Did they really think that Russia is just content with what it is allowed to (transit through Ukraine) and that's all? Again, this Putin, who knows how to negotiate and count moves? Man, what else can you say ... and not only eats into your head.
In general, as if an intelligent man is quite possible for himself and two partners to have so that everyone will be happy. And with China everything will be fine, and Europe will receive its own. Well, with Turkey, now for sure everything will be resolved in the best possible way. Well, they will not get 4, but 2 threads. Themselves are to blame if so.
And all the cries (especially from Poland and the Baltic states) are all from impotence. Because this is no longer a showdown with Russia, but with Germany. And not only with Germany.
A few different things: we offered China "The Power of Siberia". Turkey "Turkish flow" is again us. But the initiative of the "Northern-2" was from whom? That's what it is ...
And behind the Germans in the queue are all those who do not particularly want to further sanction themselves. Not masochists were the Dutch, and the Austrians, and the French (only quietly, while the "Mistrals" are not forgotten), and even the British.
Everyone wants to live in peace in terms of energy.
Well, and who does not want there, in the east of Europe, well, nobody imposes anything on anyone. Circles, spoons (in the sense of the tank) grabbed, and a clear system - to the Germans. Germans are historically not the first Europe to command. It is only hard at first, then you can get used to it. Have you got used to it in the last century?
Of course, one can say a lot on the topic that strengthening Germany is not good for someone. And to whom? These all eurolimitrophs, states, an area less than my Voronezh region (51-I in Russia by area, if that)? Or the US?
Everything with the USA is clear, because Carter was sent. But Carter, shouting about the evergreen theme of Russian enslavement of Europe and promises
tanks
missiles and exercises clearly turned out to be off topic. Yes, tanks and missiles, this is probably not bad. But it was about gas ... It would be worth sending the Minister of Energy. With a fairy tale about American LNG or shale gas, which will pack the whole of Europe "under the cork". It would be funnier.
Of course, I'm a little sorry for all these states, whose representatives are now beginning to raise noise and din. But what can we do about it? Nothing personal just business. Russia as though it is necessary to thresh the shock.
And all these Eastern European neoplasms, which were counting on the fact that in terms of loudness of screams, let it be rewarded ... If you don't like Russian Ivan, you will be fed from Hans. Whose fault is that he is smarter and more calculating?
The era of the "Slav brothers" and "allies" finally left. It is time for friends or strategic partners. Moreover, I will note that they can implement an independent policy.
And who can not - so do not qualify for the loud titles of independent states. For it is clear and understandable that the lot of the main majority of our former Allied ATS allies is to be the backyard of the great American economic system. And do not claim the position of the only "brigadier" of Europe, because this place is occupied and occupied for a long time.
That is what I respect the Germans for, so much for their ability to draw conclusions from
stories
.