Since the beginning of this year, Russian BDK have visited 41 once in Syria - such a number of passes through the Black Sea straits was recorded by the Istanbul website turkishnavy.net, the leading table of ships passing through 2013. The newspaper informs, referring to Flot.com
Look
.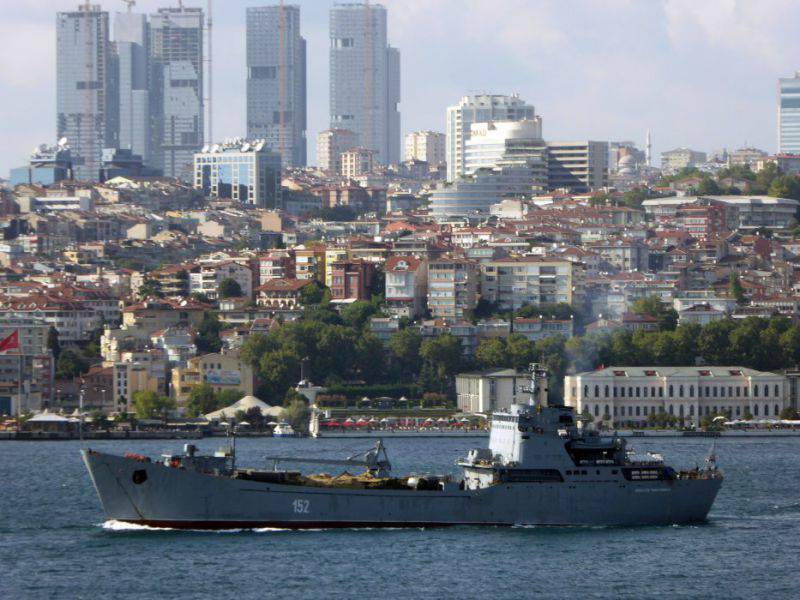 "BNC project 1171" Saratov "and" Nikolai Filchenkov "in 2015 made 7 flights, another 34 - BDK project 775" Yamal "," Novocherkassk "," Caesar Kunikov "," Alexander Otrakovsky "and" Alexander Shabalin ", as well as BDK project 775M "Azov" and "Korolev". Remarkably, since the beginning of June, the frequency of passage of Russian ships has almost doubled, "writes the publication.
In 2013-2014 fixed respectively 29 and 46 passes.
The resource notes that "photos of Russian armored personnel carriers and trucks at the disposal of the Syrian government forces repeatedly appeared in open access, so it makes sense to count them".
"On board the BDK projects 775 and 775М can be located up to 500 tons of equipment and cargo and 225 paratroopers," writes Flot.com. - Whenever possible, loading is 13 BTR, or 20 trucks. On board the 1171 BDK project, there are up to 1500 tons of vehicles and cargo and 300-400 airborne people, or, in terms of capacity, 45 armored personnel carriers, or 50 trucks. "
"Thus, the total capacity of all flights from the beginning of the so-called" Syrian express "was 75 thousand tons. Taking into account the cargo compartment's overall capacity, from the end of 2012, the Syrian military could get approximately 1990 armored personnel carriers, or up to 2440 loaded trucks (based on the weight of the cargo to 18 tons and the mass of the vehicle itself 12,6 tons), "Flot.com summarized.