On the eve of calling himself "the president of the world congress of the Crimean Tatars" and "the chairman of the Majlis of the Crimean Tatar people" Refat Chubarov announced that "the Crimean Tatar activists" are preparing to block the border with the Crimean peninsula and arrange a "blockade of the Crimea." Chubarova quotes news agency
Interfax
:
Or 20 th, or 21 th we overlap this boundary. The decision we made it.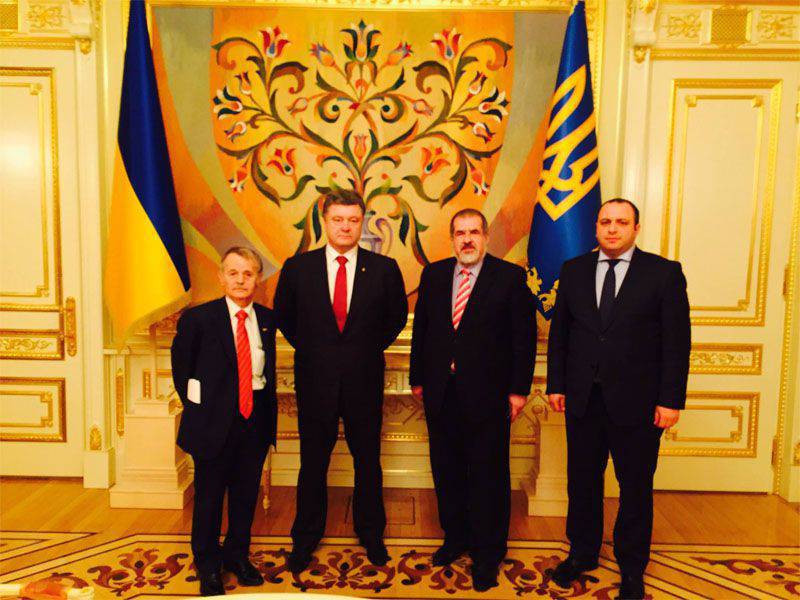 R. Chubarov third left
It is noteworthy that Chubarov explains the overlapping of the border by "activists" by "repressions of the Russian authorities against the Crimean Tatars on the peninsula".
In other words, according to Mr. Chubarov, who (together with another "activist" Dzhemilev) broke ties with his half-brothers in Crimea and settled in the parliament, he does not believe that the blockade of Crimea is a fact of repression against not only the Crimean Tatars but also many other nations inhabiting the peninsula. To call for the blockade of representatives of their own ethnic group ... - this is the whole "chairman of the Majlis", who is used to receiving grants and instructions from Washington. Or, according to Chubarov, the main Crimean Tatar is sitting in the White House today? ..
A few days earlier, Chubarov called on Western leaders to "take Putin's friends for one place." Doesn't it seem to Mr. Chubarov that in a short time "for one place" he himself can be taken by the Crimean Tatars, whose interests he has for some time become confused with the interests of very different persons?