The refusal of the Kiev authorities to direct negotiations with the self-proclaimed republics puts the situation in the east of Ukraine into a dead end, leads
RIA News
words of the representative of the Ministry of Foreign Affairs of the Russian Federation Maria Zakharova.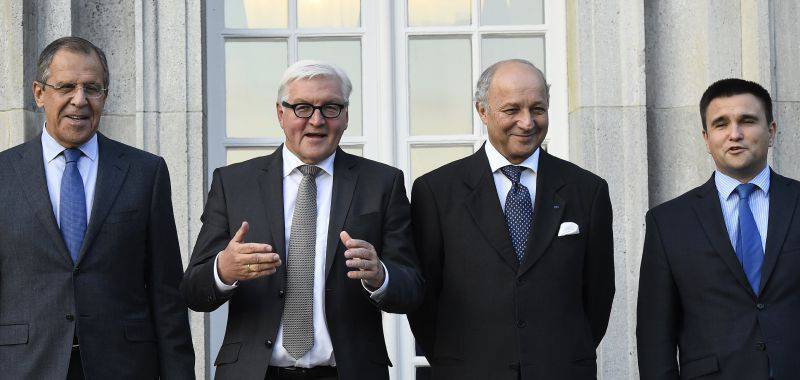 Earlier, the head of the Ukrainian Foreign Ministry, Klimkin, stated that Kiev would conduct a dialogue only with "legitimate representatives of the DPR and the LPR, and not with those who were elected as a result of the" fake "elections" that passed 2 in November 2014.
"Everything rests on one simple thing - that, unfortunately, Kiev still does not want to admit the need for direct dialogue with the people with whom it intends to live. They say that they will conduct a dialogue only with legal, legal representatives of these territories, which must be chosen. A vicious circle begins here, because in the Minsk agreements it is clearly stated that the constitutional reform, the issues of elections, and the further coexistence of these territories in general should be decided in direct contact, direct dialogue with representatives of Donbass ",
said Zakharova.
She recalled that the need for direct negotiations "clearly spelled out in the Minsk agreements, in addition, the agreements themselves became international legal documents, because they were approved by the UN Security Council resolution."
"This is absolutely dead-end logic: we will not talk to them, they are illegitimate. The signatures of these people are under a document that has become part of international law, "the Foreign Ministry spokeswoman said.
Referring to the Saturday meeting of the Norman Four, Zakharov noted that the atmosphere at it "was quite working without emotional distortions in one direction or the other." In Berlin and Paris, "there is a really deep understanding: there are no alternatives to the Minsk agreements, and the fact that they simply need to be implemented," she added.
"There should be no other recipes, mechanisms. I think that they understand that rhetoric, propaganda will not get off - we have already passed this stage, we have come to the stage of implementation and work on this document, "said Zakharova.