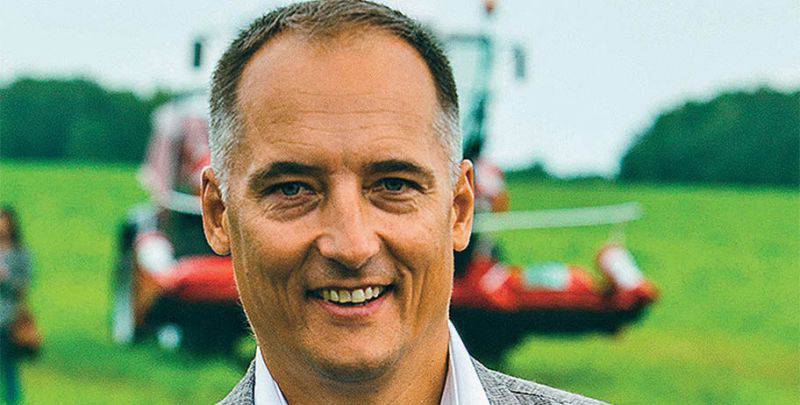 The president of the Rosagromash Association, a major shareholder of the New Commonwealth group of companies, Konstantin Babkin, spoke about what should be the new industrial policy in Russia, as well as the benefits of sanctions to Expert. Under his leadership, a comprehensive program for the strategic development of one of the largest factories in the Rostov region, Rostselmash (part of the Novoy sodruzhestvo group of companies), was developed and implemented.

- What, from your point of view, are the consequences for our economy from the introduction of mutual sanctions by the Russian Federation and the West? Have you managed to launch import substitution in Russia to the extent that you wanted?

- By and large, I do not see that sanctions represent a serious problem for our economy. If you look at the situation in perspective, a certain proportion of confrontation with the West is characteristic of Russia in almost any period of its development. And it was with the king, and under the Soviet regime. If we talk specifically about the industry in which we operate, then the agricultural engineering did not affect the sanctions. In the European Union there was one discussion, they wanted to attribute agricultural equipment to dual-use products and limit supplies to Russia, but then the large Western companies themselves strongly opposed this step and in the end - no sanctions.
On the other hand, if we keep in mind our internal Russian situation, the new political situation gives hope that the brains of our government and society will be cleared and a more correct economic policy will be built. After all, we have been living in the Gaidar economic model for almost a quarter of a century - unrestrained faith in the good invisible hand of the market that will judge and do everything for us, denying the need to protect the interests of its producers, the priority of the financial and banking sector over production. For a quarter of a century, we have been living under the dictatorship of consumerism and the abandonment of basic values, not paying attention to what happens with demographics, the number of jobs, the development of industry and technology. I continue to hope that the priority of our development will change from frantic-liberal and market-fundamentalist to a more pragmatic, modern type of thinking. In the new political situation, after the Crimea, the Ukrainian events, the rhetoric of our leadership has changed. Words such as agricultural development, import substitution, 25, millions of jobs were trying to create. In our agricultural machinery on this wave, the government has developed a program whereby farmers are subsidized by a quarter of the price of purchased Russian agricultural equipment and do not subsidize the purchase of foreign equipment.

- And does it work?
- Works very well. Last year, when it began to be implemented, there was a fifteen percent subsidy. As a result, against the background of a falling global engineering market, we had growth. This year, due to the ruble exchange rate jumps, the situation is a bit more complicated. In the spring there was a fall, but after the amount of subsidies was increased to 25 – 30 percent, the industry is again in the black.

- But the year has passed. And are there, according to your feelings, any changes?

- While the same people are sitting, the same words say that the fight against inflation is most important. But I continue to hope that we will nevertheless come to change here. Ukrainian events are pushing for this step. After all, it is clear that a country that does not produce anything, in which people are idle, because of its weakness becomes the subject of intervention and manipulation. For our part, we are trying to make an effort to shift the situation. Here we had the Moscow Economic Forum (organized by the Lomonosov Moscow State University, the Institute of Economics of the Russian Academy of Sciences, and the Rosagromash Association). The forum brought together economists, who have not only an alternative to the Gaidar group, but a positive outlook on development, the right priorities.

- And what should this alternative Gaidar's new concept look like?

- It involves a change of priorities. It is necessary to stop focusing on the fight against inflation, the accumulation of the Stabilization Fund, membership in the WTO and other similar organizations that depend on Western countries and their allies. It is necessary to focus on real values. To them I would attribute the development of non-primary production. If it is not profitable to produce in Russia, then it is a sick Russia. If we set ourselves this priority, it will immediately become clear that taxes should not be constantly raised, as is done, but on the contrary, radically reduced. It is necessary not to lift the rate of the Central Bank, but to significantly reduce or reset it altogether. Inflation is just a by-product. If production develops, inflation is not terrible, it is even useful. It is necessary not to have the WTO as a fetish (after all, a huge number of interests have merged into joining it), but to develop our own production and create equal conditions of competition for our producers. Today, not everyone understands, but our manufacturers of many goods: furniture, cars, and so on - are unequal compared with Western manufacturers. Therefore, we first of all need to protect our interests and support the export of our goods, which is virtually nonexistent today. It is also important to reconsider the system of interrelation of scientific institutions and industry. Institutions exist with us somehow completely by themselves. For example, in agricultural engineering there are ten institutions. They occupy six buildings and receive subsidies from the state, but the industry practically does not use the results of their work. We applied to the FANO, to the institutes with a specific request. And we are told: give us money. And they ask one hundred percent payment. But then it is easier for us to do these studies in our design bureaus. Question: why then do these institutions exist?

- Why did you buy a plant in Canada? And how does your production volume correlate here and there?

- Here we have the production volume - 600 million dollars, and there - 350 – 400. We bought a factory there for a long time, in 2008 year. Then Rostelmash produced only combines, and in order to be interesting to the consumer, in order to feel more confident in the market, not so dependent on fluctuations in demand, it was necessary to expand the product line, and we decided to produce tractors. Calculated how much is your tractor from scratch. Then they saw the tractor plants in Russia, Ukraine, the CIS, Europe, around the world. Gone with such expanding circles (there are not so many plants for sale). And the Canadian plant went best. That is, we did not endure our production. Combines that were produced in Russia, and are made here, and there - the tractor. But this step will make the company more sustainable. Sometimes it happens in Russia, everything is bad, but it's good there. Now there is heavier, in Russia better. Technologically, I can't say that this has given us so much, our engineers already travel to factories all over the world.

- What is your relationship with the local authorities? Administration of the Rostov region helps?

- According to my feelings, the regional authorities are closer to the land, to their producers. They understand that production is the key to the wealth of the region. And so the policy is carried out appropriate. The governor regularly happens with us, always aware of all the problems and successes. In June, he, together with the Minister of Industry, Manturov, launched the production of a new combine. This support is not only moral, for example, it subsidizes a part of the cost of our machines to its farmers.

- What is the share of local components in your equipment that you produce here?

- Roughly speaking, a quarter of components is brought from abroad, from the cost of the combine it is about fifteen percent. The rest is ours.

- And how good is this technique?
- Two years ago, the Ministry of Industry and Trade conducted a test of the reliability and performance of our and leading foreign companies. We won in most parameters - performance, grain quality, fuel consumption, cost of cleaning.

- It was not such specially assembled cars?

- No, the usual cars were. On the other hand, foreign companies were also invited with their specialists and brought those cars that they wanted, and not just taken off the assembly line. But for some reason, the results of the study were classified and still not published. We were told that under the terms of contracts with foreign firms they cannot publish the results without their consent. Muddy some
история
. But a lot of other competitions were held: in the regions and in the West. Very worthy we looked everywhere. In addition, a quarter of all the equipment we produce is exported to thirty countries of the world, including Germany, the USA, and Canada. And the reviews are also normal.

- What is stopping you from exporting more?

- Our current economic policy, in which we are given loans at 18 percent, while in Canada - at 1,8 percent. In addition, we need low taxes and cheap resources. For example, we buy electricity in Rostov and in Winnipeg, and so this winter ours was more expensive in 2,3, and now it has become more expensive. To increase Russian non-oil exports, we need to improve production conditions here and organize export support.

- How do you imagine that? It seems that we have structures that should deal with these ...

- There are structures similar to those in the West, but they do not work at all. We see real benefits only from EXIAR. Under their insurance, we go to new markets. All deliveries to Europe are under their insurance coverage. But one insurance agency, even a very good one, is not enough. This is about three percent of what we should do. Now I will tell you what our competition looks like, for example, in such a simple case as Armenia. Germans come there to the exhibition, bring their combine, put it up at the university, make a stand, and the German state paid half of the cost of all this. The Germans offer to buy their harvester on credit at four percent per annum for ten years and still promise Armenians to build a service center for these combines from them - the German state, not the manufacturer, will also pay for half of this service center. In addition, the German ambassador to Armenia, and Angela Merkel herself, if she arrives, everyone will ask the Armenian president why he will not buy a fine German combine and so offends German entrepreneurs. And here we come, "Rostselmash", we do everything at our own expense: both the trip and the stand - the state does not pay us. Armenians look at our combine, they say that the combine is good, but it costs the same. "Germans give us at four percent for ten years, and how much?" And I say: "Well, 18 percent per annum and for three years we can't, a maximum of one year." It is possible, of course, to refinance for ten years, only then the combine will rise in price three times, and on German conditions - only by 40 percent. Then the question is settled, and Armenians buy from the Germans.
At the same time, the President of Armenia personally addressed a letter to our President that he likes our equipment and he asks to arrange for leasing and guarantees payment through state companies. But he did not even answer. Just silence. At the same time, our state two years ago gave Armenia 500 million dollars for nothing. Of course, they took the money, and they dissolved in a month. But after all, it would be possible to link these two things and not to give with money, but with our goods: combines, bicycles, anything. But it does not work for us. Turkmen, Uzbeks also buy not our equipment, but American and German. When our politicians go there to communicate, we have never even been invited2. It turns out that both German and American politicians carry delegations of their industrialists and talk about them, and ours never. But our politicians would ask them why they are not letting our equipment to the market?