Eternal questions: "Who is to blame?", "What should be done?" And "How can we improve the quality of medical care?" In order not to reduce the discussion of the third question mentioned here to the "kitchen political science" option, the All-Russian Popular Front decided to enter, so to speak, with trumps . - The President of Russia was invited to the discussion under the loud title "For high-quality and affordable medicine" dedicated to raising the level of medical care. And the conversation with Vladimir Putin turned the discussion into a kind of "straight line" with the president ...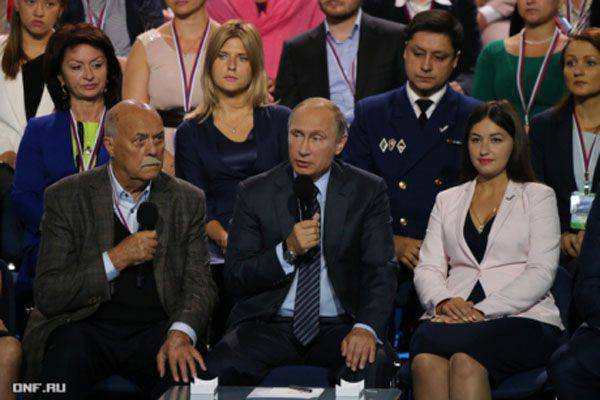 The list of topics discussed at the forum is wide - and as wide as the scope of medical care itself. Here are just a few areas for discussion that were identified on the ONF forum: problems of drug supply, import substitution in pharmacology, lack of professional medical personnel, closing of medical and obstetric centers in rural settlements, problems of emergency care, increasing the prestige of the medical profession, medicine and insurance companies, the ratio of salaries of the main doctors and ordinary doctors of clinics, sectoral corruption. In general, there are plenty of problems, and if you try not to pay attention to these problems, expecting that in the end everything will resolve itself, then it will not only draw new problems in demography, but also quite tangible social tension.
One of the main problems that often entails many related problems is the very attitude of Russians towards their own health. For the overwhelming majority of us, what a sin to conceal, the "health!" Toast is much more important and more attractive than the health itself ... And if it does not prick in the side, the leg does not hurt (hand, head, etc.), the heart does not remind of itself (kidneys, stomach, etc.), then medicine for us, as it were, does not exist at all. Well, why go to the doctors, if the "sores" are silent? .. If the time of the next medical commission comes up (for representatives of a number of professions, including military personnel, production workers, teachers, medical workers themselves), then the commission is something of a kind for us, when "we are completely healthy", and "for some reason they" listen "to us, knock on the knee, measure pressure, sugar level, etc." We can afford to give the doctor a chocolate bar while passing a paid medical commission, only if only he had not put the inspection l give us a stamp in the medical book ...
Doctor:
Is something bothering you? Any complaints?
Patient to doctor:
No complaints!
After such a "physical examination" we come home and after all, damn it, we can afford to complain about health, medicine, and a specific medical specialist ... They say, one had to say to him that the pressure began to ride ... But no, after all, he was a doctor himself - he had to determine all my health problems by only one type; and if I said, they would have healed "up to the handle" ... It's better to devour pills that the neighbor advised - they said, they helped him a lot, although he has completely different "sores" and the age is different too, and in general he was recommended by a very good friend of his — the former ... because, unfortunately, the deceased ...
No, well, let's not blame everything on ourselves, as on the patients ... The doctors, after all, are in a kind of collusion with us, the patients. If a patient with all his steps, hints and mimic movements gives out that he came to a state clinic, in which free medical services are provided (on the basis of the OMS policy), but he is ready to pay for "free" medicine and not to go to the prosecutor's office in case of outright outrage then for a number of doctors (not for everyone, of course) this is "BINGO !!!"
Doctor:
So ... Here, in the district hospital, we do not have such drugs, and there is no equipment. But in a private clinic, which can be accessed from the end of the same building - I, by the way, also work there - all this is there. Bakhilchiki, by the way, do not need to buy ...
Patient:
Doctor, but they told me that I can get these medicines for free if you write a prescription.
Doctor:
I said that we don't have them, but from the end they are. Want - pay and treat, do not want - ...
Patient:
Well, you, that you ... Of course I will cry. How many?..
As a result, a system is born, in which patients and doctors, as they say, wink at each other - they say, we all know each other. And then it turns on that "kitchen political science", when ultimately you want to identify the guilty, but at the same time expect order exclusively from everyone around, excluding, of course, yourself ... Like, my health - I do what I want, I do; My office in the clinic - as I want, so I fly.
But this bureaucratic component is also built into this entertaining system. The allocation of sufficiently serious funds (according to the president - more than 3,5% of GDP) for medical services from the state budget attracts lovers of cream collection ... And it often happens that officials are "generated" by the medical environment itself. There are also treating deputies, and deputy healers. There seems to be nothing illegal in this, but more often than not, ladies and gentlemen, who, as they say, actively pursue the budget funds allocated for medical care of patients, come out of this environment. "Moreover, they are mastering so actively that instead of new beds in a state clinic or instead of paying advanced training courses for medical staff, there are suddenly new floors in country houses or new hundreds of" horses "under the hood of the same" treating deputy "car.
In this regard, the presidential question asked during the ONF forum about what instructions are needed so that the people "don't tyril" money from the people, as if hanging in the air ... This question generally exposes the entire health care system, and after all, not only health . If a single official did not receive "instructions" (and also personally from the head of state) that money cannot be "tyrit" from the people, it means - "BINGO !!!" again. Be it laundering, rolling back or dodging and splashing on the background the mentioned winking of patients and physicians ...
At the same time, frankly, I would like to hope that the ONF forum on health issues in Russia did not turn into a continuous event, but nevertheless outlined urgent problems, and served as a real impetus to the beginning of their solution. Let us be well, friends!