About the next "peremog" reported Ukrainian Cabinet of Ministers. Thus, the Deputy Minister of Social Policy of Ukraine Valery Yaroshenko stated that the unemployment rate reached a record for all
history
Ukrainian independence. If at the end of 2014, unemployment was at the level of 9,7%, now it has exceeded 11,5%. And this is only official statistics.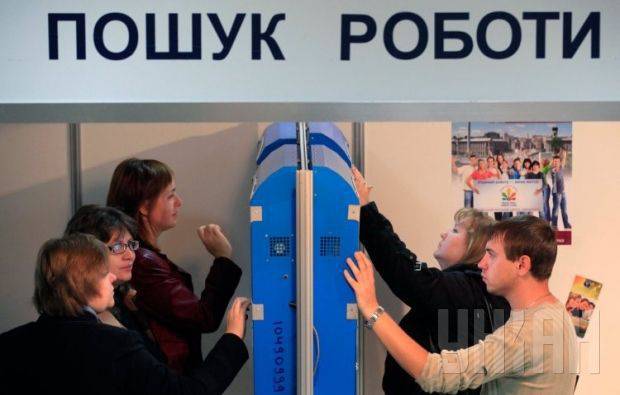 Портал
"Correspondent.net"
cites the statement of Valery Yaroshenko:
The unemployment rate among the population is the highest in all the years of Ukraine's existence. Among young people, it reached 23%.
After that, Yaroshenko tried to identify the culprit in the increase in the level of Ukrainian unemployment. It turned out that here "Russia is to blame." According to the ukrochinovnika, "the aggressor state is doing everything so that Ukraine does not receive investments."
At the same time, Yaroshenko spoke about how the Ukrainian government is going to reduce the number of unemployed. It would seem that for these purposes Ukraine already has an "ATO" ... But this time the representative of the Ministry of Social Policy did not speak about this. According to him, the situation will be saved by a loan in 900 million dollars, issued to Ukraine by Japan "at a percentage that is less than inflation."
Yaroshenko:
Imagine how many jobs in Kiev will be created to realize this loan.
And the Japanese allocated a loan not to create new jobs in Ukraine. The Observer portal writes that declaratively the loan is used for the reconstruction of the Bortnichesky aeration station, but in fact the money will be spent on using sludge fields.
Opinion of the Director of the Kiev Ecological and Cultural Center
Vladimir Boreyko
:
The Japanese are not interested in the technical condition of the station, they are interested in silt fields, which are no longer considered the property of the station. They will deal with the fields, use the silt, because it contains the entire periodic table - it can be processed and receive income from it. (...) it's like you have a big crop of tomatoes in your garden, you don't have the strength to collect it, you give it to the Japanese, they come, pick it up and sell it. You say to them: "Thank you for freeing my garden."