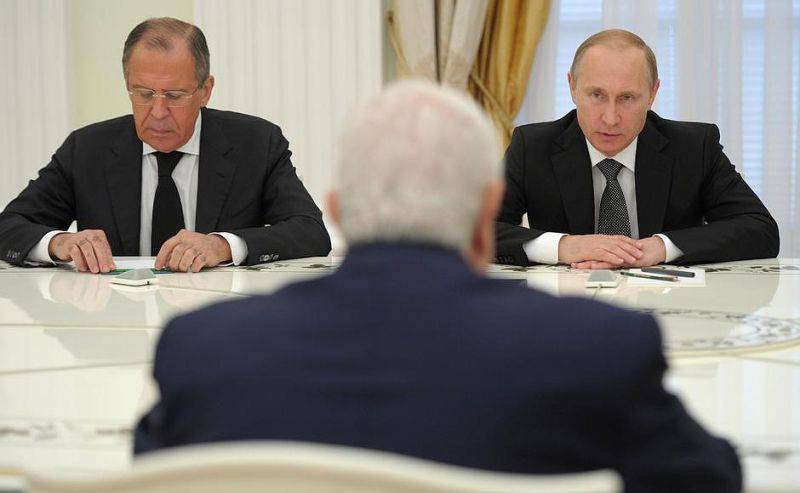 Moscow is gradually becoming a central participant of diplomatic negotiations on the four-year civil war in Syria. On Friday, 28-August, the Obama administration sent to the capital of Russia one of its key emissaries so that he could discuss the conflict with Russian officials, following the recent visit of officials from Saudi Arabia, Jordan and Iran, as well as key representatives of the Syrian political opposition.
According to administration officials, following the positive experience of close cooperation with Russia on nuclear agreement with Iran, which was signed this summer, they want to seize the opportunity to jointly with Russia to develop a strategy for ending the war, which since its inception in 2011 was killed more 240 thousand people and deprived housing millions of Syrians.
Although State Department officials admit that serious obstacles to close cooperation with Russia still remain - in particular, the fact that Moscow together with Iran has supported the Syrian President Bashar al-Assad for many years, as well as serious disagreements over the Ukrainian conflict. - The administration, apparently, hopes that it will manage to convince Russia to change its position.
Hence Friday's visit of US Special Envoy on Syria Ratna Michael (Michael Ratney) in Moscow, which took place after US Secretary of State John Kerry (John F. Kerry) discussed the Syrian strategy in a series of meetings with Russian Foreign Minister Sergey Lavrov and the Minister Foreign Affairs of Saudi Arabia, Adel al-Dzhubeyrom (Adel al-Jubeir), held in August during his visit to the Middle East and Asia.
According to a State Department statement, the goal is to "achieve a rapprochement of positions both within the Syrian people and among foreign countries regarding the political transition process in Syria.
State Department spokesman John Kirby told reporters that administration officials "understand that Russia takes a different look at the situation in Syria than we do."
"Frankly speaking," said Mr. Kirby on Thursday, August 27, "their support for the Assad regime did not contribute to solving the crisis in Syria and only led to Assad continuing to oppress his own people with a new force. Undoubtedly, we hold different positions on this issue. "
But US officials "are hoping that we have opportunities for cooperation in the search for a political transition in Syria," said Kirby. "What it will look like and what it will lead to, we still do not know."
"Discussions are just beginning, so the visit of Mr. Ratni is of great importance," he added. "We understand that we still have a lot to do, but we believe that now we have a good opportunity to continue to cooperate with Russia on the issue of the political transition process in Syria."
It is unclear whether this will result in the possibility of a new wave of international peace negotiations, such as those talks, which met officials of several countries, as well as representatives of the Syrian opposition fragmented in 2012-2014 years.
The results of those negotiations, dubbed "Geneva-1" and "Geneva-2", ultimately faded away as a result of the struggle inside the opposition forces, as well as disagreements over the question of whether the overthrow of Mr. Al-Assad any further negotiations.
Comments Mr. Kirby suggests that the US administration is gradually reconciled to the idea that Moscow is now a key player in all that concerns Syria. In recent weeks, Russian President Vladimir Putin took part in the next round of talks to strengthen Russia's position in the search for solutions to the conflict.
In early August, Russia has hosted a delegation of representatives of the main Syrian opposition group, National Coalition for Syrian Revolutionary and Opposition Forces. In addition, over the past few weeks, Moscow attended by senior representatives of almost all the regional powers involved in the conflict, including Iran, Saudi Arabia and Jordan.
During his visit, King Abdullah of Jordan stated that Mr. Putin plays a key role in the "process of gathering all the opposing sides at the negotiating table for a peaceful solution."
But it is unclear whether the increased role will Russia the goal sought by Washington and its allies, namely the care of Mr. Assad as part of a peace agreement.
When the Minister of Foreign Affairs of Saudi Arabia, Adel al-Dzhubeyr visited Moscow earlier in August, Mr. Lavrov told him that it would be wiser to work with the government of al-Assad and the Syrian army in the struggle against extremist Islamic state in Syria.
Mr. Al-Jubeir replied that Saudi Arabia, like the Obama administration, believes that "Assad is part of the problem itself, not its solution."
However, Russia has great influence because it is increasingly being perceived as a mediator between the international community and Iran, the main ally of the Assad regime, who, as the Obama administration insisted, should not participate in negotiations on a peaceful settlement of the situation in Syria.
Relations between Russia and Iran have been further strengthened since the signing of the agreement on its nuclear program in July. Last week, Iranian Foreign Minister Javad Zarif (Javad Zarif) visited Moscow, arriving there shortly after their counterparts from Jordan and Saudi Arabia.
While the Obama administration has not said whether it will reconcile with the more active role of Iran in future peace talks on Syria.
Anger over Iran's possible participation arose in Washington in 2014 after a statement by UN Secretary-General Ban Ki-moon that he invited Iran to take part in a peace conference on Syria, dubbed "Geneva-2."
As a result of intense debates and pressure from Washington and its allies, the United Nations had to withdraw his invitation.
On Thursday, Mr. Kirby ignored reporters' questions about this, noting that US officials are currently focused on "discussions with Russia and Saudi Arabia, as well as with the UN."
"At the moment, I'm not going to get ahead anyway," he concluded.