Boris Levitan, General Director of Radiofizika PJSC, stated during the MAKS-2015 aerospace show that a mobile sector radar system (MS RLK) with a fully digital active phased antenna array called Demonstrator attracted great interest from foreign specialists.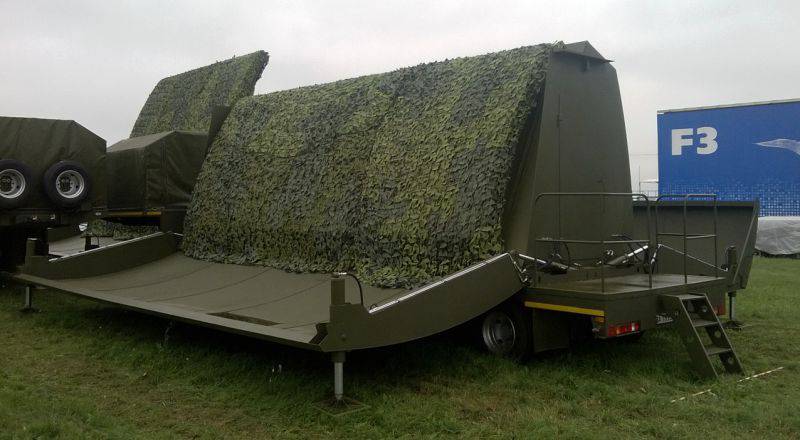 "The peculiarity of the current air show and our participation in it is the increased interest of foreign participants to the new product of the Radiophysics company - the radar" Demonstrator ", - quotes him
"Military Industrial Courier"
.
The CEO noted that representatives of the United Arab Emirates, India, Pakistan and other countries visited the stand of the company. At the same time, according to him, the company for the first time presented a product that has passed full-scale tests and is completely ready for mass production.
"Today we can produce this equipment in quantities sufficient to supply the external and domestic markets," - said Levitan.
According to him, at the moment there are other systems with similar characteristics, however, the development of PJSC "Radiofizika" has a distinctive feature - it demonstrates new technologies.
"First of all, these are technologies of fully digital active phased antenna arrays, which, along with the usual characteristics of range and accuracy, allow for a number of additional functions. Such, for example, the simultaneous tracking of more than 100 targets, the electronic formation of a large number of rays that allow you to work in a difficult jamming environment, control the parameters of antenna patterns in a wide range, "Levitan said.
According to him, the company's specialists have developed a high-tech and inexpensive in the production of radar, as it uses a large number of repetitive solid-state elements, which become very cheap during production automation.
"All this, of course, is its competitive advantages, which will allow us to successfully promote it in the market," said Levitan.
The general director also noted that the company has additional proposals for the Ministry of Defense of the Russian Federation.
"We hope to order the station from the Ministry of Defense and Roskosmos, since it can be effectively used to control the launches of our peaceful missiles. We can provide launch control, with very high accuracy, determining all launch parameters, as well as the points of incidence of individual elements, including those with unsuccessful launches, "he said.