The head of the Information Service of the Investigative Committee of Russia, Vladimir Markin, reports that members of the extremist organization Ukrainian National Assembly - Ukrainian People's Self-Defense (UNA-UNSO) Nikolay Karpyuk and Stanislav Klykh will face trial in the Chechen Republic. Both are Ukrainian citizens. In Russia, they are accused of committing a number of crimes involving participation in a gang group, killing two or more people in connection with the fulfillment of their official duties, as well as attempting to kill two or more people.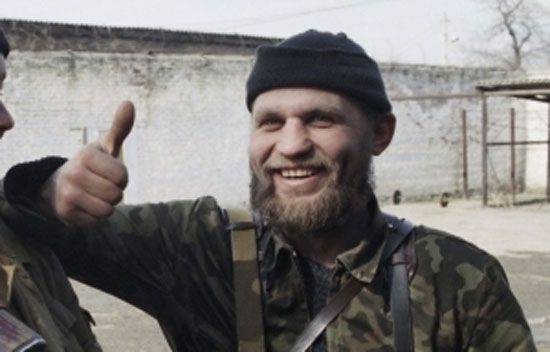 From the message
press service of the RF IC
:
According to the investigators, at the beginning of the 1990-s, a militant political organization of the right-wing wing "UNA-UNSO" was created on the territory of Ukraine, adhering to nationalistic ideology, one of the goals and objectives of which was to counter any actions of the Russian authorities nationality. Sharing the above goals and objectives, at the specified time on the territory of Ukraine, its members included citizens of Ukraine Nikolai Karpyuk, Stanislav Klykh, Alexander Malofeev, Alexander Muzychko and others.

In connection with the establishment of stable armed groups (gangs) in the territory of the Chechen Republic of the Russian Federation during 1991, with a view to forcibly tearing it away from Russia and forming an independent Islamic state on its territory, the beginning of hostilities to restore constitutional order in the Chechen Republic in December 1994 of the year, being on the territory of Ukraine, Karpyuk, Muzychko and other persons took an active part in the organization of stable armed groups consisting of the most radical members in UNA-UNSO, for their subsequent participation in the armed conflict on the territory of Russia on the side of the self-proclaimed Chechen Republic of Ichkeria.

At the same time, Karpyuk, along with Dmitry Korchinsky and other persons from among the leaders and members of UNA-UNSO, arrived from Ukraine on the territory of the Chechen Republic so that as part of an armed group from among the UNA-UNSO members and together with members of gangs acting on the territory of the republic, headed by Aslan Maskhadov, Shamil Basayev and others, to carry out attacks and killings of citizens, military personnel of the Armed Forces of the Russian Federation, as well as law enforcement officers. Thus, fulfilling the orders of the leaders of the gang, Karpyuk and Muzychko headed a gang called "Viking", which also included UNA-UNSO members Dmitry Yarosh, Yuri Dolzhenko, Alexander Malofeev, Stanislav Klykh and others.
It is reported that Klykh and Karpyuk were involved in the killing of at least 30 Russian military personnel and in the injury of the health of another 13 Russian military.
In the RF IC, it is reported that an extensive evidence base has been collected to transfer the case to court.