I have long had the thought to write about the Western propaganda system - a system refined to the smallest detail, to which our media still has to work and work. It actually forms the lifestyle of the American and now European man in the street. Every year, huge amounts of money are spent on brainwashing in the United States and European Union countries, comparable only to the military budgets of these countries. And it is precisely on this method of influence that extends to our territory that almost the main stake is being made.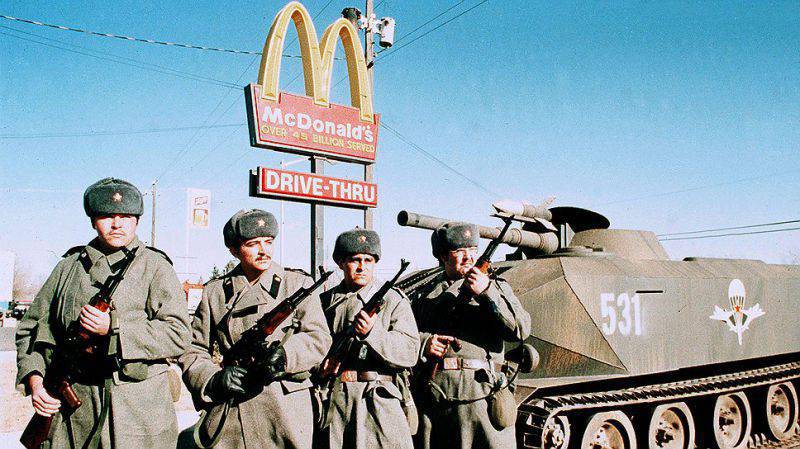 Point one: ousting competitors from the political field
Modern Western society, having improved its material condition, lost its ideological monolith, which consisted of pluralism and difference of opinion. Ask about
history
20 century - how many prominent left movements were represented in the West! How many basically various oppositional structures existed in the countries of the first world! They had the opportunity to create an alternative picture of what was happening and, albeit with distortions, they still forced the average man to doubt the veracity of what the newspapers and later televisions could tell him. In some places, pro-Soviet or even neutral politicians, gaining the authority and sympathy of the general public, found themselves in power, such as, for example, de Gaulle.
Today, for any movement that declares a "non-traditional" course of improving relations with Russia, the path to power is closed in principle. Election processes are fully and completely controlled by the world backstage, which itself chooses its protégé. This may not work in smaller cities or regions, where it is more and more open and real, but in the end, the most important posts will still occupy comfortable backstage personalities. Of course, it cannot continue for so long - in Europe, for example, right-wing traditionalists like the French National Front, led by the decisive Marie Le Pen, are already gaining popularity. But the West does not like to play democracy at home - for the time being it is difficult to imagine a situation in which a person sympathizing with Russia will become the president of a large European country and even more so.
Point two: monopoly on popular culture
It is unlikely that among you there are those who have not watched at least one Hollywood fighter. Remember - who is the main enemy there? Who always acts as an anti-hero, a usurper of freedoms and a terrorist? Russians. Now, however, another trend is in fashion - the use of Arab terrorists as bad guys, but I guarantee that it will not last long. Classics are always relevant, and if needed, we will again see Stallone, Willis, Statham or anyone else carrying the "evil commies."
The influence of Hollywood is enormous: it is possible that an American or a Frenchman would like to learn a different point of view, but it simply does not exist. Do not take our weak domestic cinema as a competitor to the almighty Western! After the collapse of the Soviet Union and especially after the death of Stalin, our interests in enemy territory were severely infringed. As mentioned above, very few politicians can convey to the public the idea that Russia, if not a friend, then at least not an enemy. The whole mass culture is filled with hidden, but very intrusive propaganda. What to talk about if she acts even with us and corrupts our young people! And I am very pleased that, against this background, Russia Today began to increase its audience and created several additional channels in other languages. Ideally, our position should be clear throughout the world - we will not attack first, we want peace, but we will not allow us to oppress and wield us in any way at our backyard.
Point three: "Call white black and white black"
Hypocrisy is inherent in the West
news
, but a long-established and formed fact. However, even 50 years ago, even the Americans did not dare to go against the truth - they recognized the primacy of our contribution to the victory over Nazi Germany. Alas, after the collapse of the Soviet Union, European-American propaganda gained momentum. An obvious example: in Japan, a considerable part of young people believe that it was the Soviet Union that dropped atomic bombs on Hiroshima and Nagasaki. Why? And so in the movie some said (back to the second paragraph).
The trouble is that the western man in the street has become extremely vulnerable in terms of information. Tell him that Russia has introduced 100 thousands of soldiers to Ukraine - and he will believe. Tell him that the Russians have shot down that Boeing - he will believe again. Tell him that this is Russia to blame for everything and it must be destroyed for the good of the world - and he ... In general, of course.
We must understand: in the course of the careful work of the special services, various structures and organizations subordinating to a single center, a generation of stupid, naive and deceived people has grown. If we are resisting the rewriting of history, if only because the proper foundation was laid in Soviet people, in the West society blindly believes everything that television says. Or it abstracts from this, but it does not cease to watch movies, and there is the same pumping: Russians are evil a priori.
It is not so easy to say how to deal with this phenomenon, but one thing is clear - one cannot be inactive. It is necessary to expand international broadcasting, break through the information blockade and convey the truth at all levels. And do not forget about yourself - we also have thousands of people who think in terms of liberal democracy. It is very important to work with them at least in order not to leave the rears bare in the event of a large clash with the West. And it is already underway - so far in the cold mode, but who knows what will happen next?