Indian Armed Forces acquired anti-aircraft missile systems of "local" production. We are talking about the Akash air defense missile system (Akash) developed by Bharat Dynamics Ltd under the auspices of the Indian DRDO (Organization of Defense Research and Development) and recently brought to life. The development of this complex was carried out over 30 (!) Years. It all started back in the distant 1984 year, when Indian developers decided to take the Soviet "Cube" as a basis.
The characteristics of the Indian Akash air defense system are as follows:
the missile complex is capable of hitting a target at a distance from 3-x to 27 km;
the minimum height of the target destruction - 1,4 km;
The maximum height of the target's hit is 18 km
maximum speed of the target being hit - 700 m / s;
rocket mass - 0,7 t.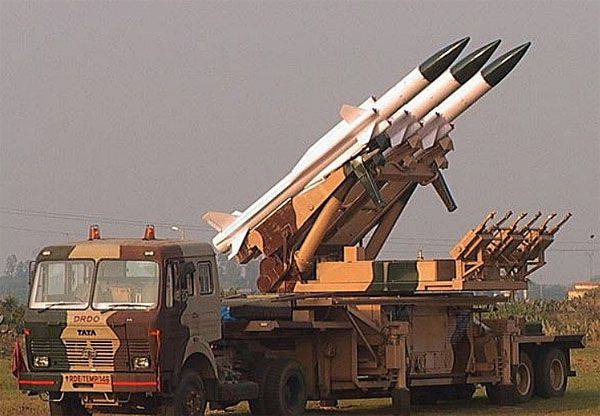 The complex uses a modernized radar system "Rajendra" ("Rajendra"), exciting and accompanying aerial targets at a distance of 60 km. The station is able to work in the conditions of the enemy's strong interference, providing guidance for 12 missiles.
Tests of the Akash air-defense missile system were conducted in India in recent years, and after a series of improvements, Indian-made anti-aircraft missile systems were commissioned by the Indian army.