Deputies of the Verkhovna Rada of Ukraine will consider a bill that provides for the denunciation of the Russian-Ukrainian agreement of 2003 on the use of the Kerch Strait and the Sea of ​​Azov, reports "RosBusinessConsulting". Among the authors of the initiative are the First Vice-Speaker of the Ukrainian Parliament, Andrei Paruby, who represents the party
"The Popular Front"
.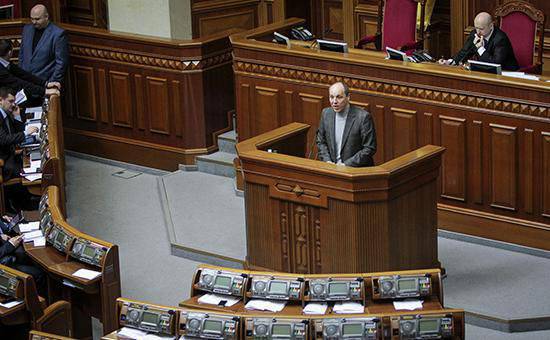 The contract between Moscow and Kiev provides that merchant ships and warships of both states can move freely in the Kerch Strait and the Sea of ​​Azov. One of his articles notes that all disputes that arise should be resolved "through consultation and negotiation, as well as through other peaceful means.
It is worth noting that in early July of this year, Ukrainian President Petro Poroshenko signed five bills on the denunciation of agreements between the Russian Federation and Ukraine: an agreement on cooperation in the military field, an agreement on the transit of Ukrainian troops temporarily on the territory of Moldova, an agreement on mutual protection of secret data, agreements on military interstate transportation and agreement on cooperation in the field of military intelligence.
At the end of May, Prime Minister of Ukraine Arseniy Yatsenyuk announced that Kiev had decided to stop military-technical cooperation with Moscow because of its actions in the Crimea and the Donbas.
"It illegally annexed Crimea, carried out military intervention on the territory of Donetsk and Lugansk regions and represents a danger to Ukraine and its territorial integrity," he stressed.
The words of the Ukrainian politician were commented by a member of the public council at the Ministry of Defense of the Russian Federation Igor Korotchenko, noting that they sound rather strange against the background of the statement of Moscow about the termination of cooperation with the Ukrainian defense enterprises, made several months before.