Once again, the Prime Minister of Ukraine, who visited North America on a visit, declared that Ukraine is an "outpost of a democratic world". Yatsenyuk made these statements during a meeting with Canadian colleague Stephen Harper. The CBS information service publishes material in which Yatsenyuk declares that Ukraine is fighting with Russia not only for its integrity and independence, but also (attention!) For the security of other states, including Canada. According to Yatsenyuk, Ottawa should help Ukraine to wage such a struggle.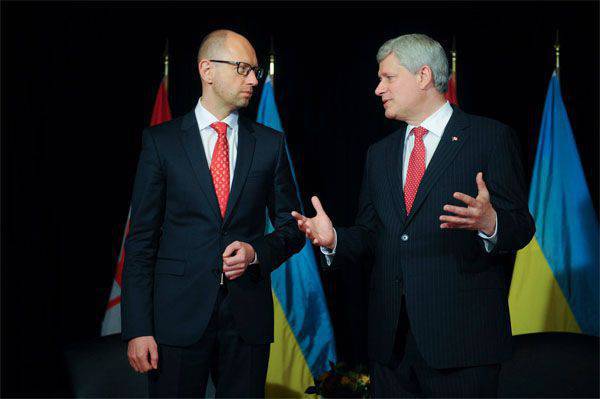 On his Facebook page, Yatsenyuk wrote the following:
Today in Ottawa, signed a document on the completion of the negotiation process on the creation of a free trade zone between Ukraine and Canada. This is a new page in the relations of our countries. The agreement should deepen Ukrainian-Canadian cooperation, increase bilateral investment. This is another step towards making our countries prosperous (Yatsenyuk, as it were, level Canada with Ukraine in terms of economic development - with this tirade). We highly value Canada's position as a member of the G7 in Ukraine's struggle against Russian aggression. I am grateful to the Head of Government of Canada, Stephen Harper, for his personal participation in supporting Ukraine - both economic and financial, and political.
And these are the words of Yatsenyuk, which are quoted by the Canadian TV channel (translation
RIA News
):
This is a global challenge. Ukraine has become just a battlefield. The battlefield for a bright future and against Russian aggression. We are fighting against the Russians (and this is worth paying special attention to - "VO"), and we are defending the European borders. Russia also poses a threat to Canada, and not only to Canada, but also its NATO allies.
Meanwhile, Ukrainian users of Facebook commented on the statements of Yatsenyuk as follows:
Alexander Zheleznyak:
Where is the reform? Where is the lustration? Where is the fight against corruption?
Anatoly Gerasimovich (about the agreement with Canada):
Senya, this is not your merit, but the merit of the Ukrainian diaspora in Canada. And you and Avakov were like thieves, so they remained.