Pay tribute to Russian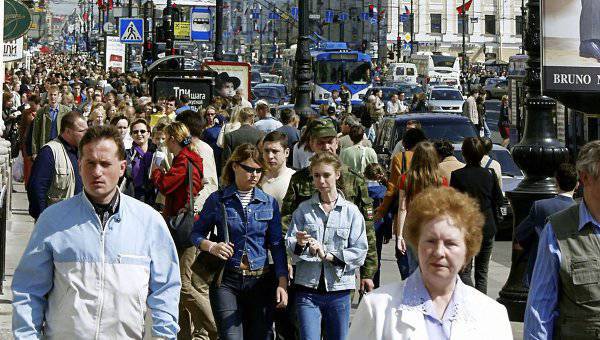 Perhaps I am mistaken, but for the last twenty years I don't remember a single word of praise from the top officials of the state to the Russian people. The latter concerned all the peoples of the USSR and, in our times, sounds almost indecent: "Glory to the great Soviet people - the builder of communism!"
Since the Soviet people have been renamed as a scoop, communism and socialism have been laughed at, and the Russian people have quietly been merged into the Russian, abusive evaluations have become in vogue: drunkards, freaks, crooks, thieves, losers - free the territory! Anyone who says that he has not heard such assessments is either deaf or cunning. I can't name a single event from our past, about which pseudo-historical legs wouldn't wipe. The Northern Sea Route, industrialization, collectivization, space exploration, free education and free housing, medical care, school, sports, military service, the Warsaw Pact in response to the creation of NATO, the ocean fleet, the nuclear shield - all this was supposedly created by slaves of Stalin and Khrushchev , Brezhnev, Andropov, and was created from the hands of very bad or to the detriment of progressive mankind.
I can only guess what is going on in the minds of the current schoolchildren if the poster of the first post-war years: "Glory to the Russian people - the hero nation, the creator nation!", Which depicts yesterday's warrior with drawings of a new house in his hands, causes them to snort and mock smiles. Grandchildren laugh at their grandfathers and their
history
! But how can they not laugh if they openly laugh on the main TV channels! Forgive them, Lord, for they do not know what they are doing! .. This is about the children. The battalion of adult agitators, who still pulls away to be called a firing squad, knows very well what they are doing!
Today's Russia occupies the 73 place for feeling its residents happy - we are on the same level as South Africa and Lebanon. In this case, every fifth (22%) suffers from us, and more than half (57%) suffer from problems. Is this not an integral indicator of how people feel in their country?
One gets the feeling that, having taken all possible last places in the world ratings of countries, we no longer claim to former greatness, we, God forbid, keep the adjectives "hardworking", "original", "patient" ... Only who among the young will want to live with such a semantically flawed label: "Long live the patient Russian people - the builder of the new Russian capitalism!" They suffer not joy, but suffering. Isn't it easier to become successful abroad?
Whether someone likes it or not, the last politician who thanked the Russian people was none other than Generalissimo Stalin. It happened after the victory over Nazi Germany. In Wikipedia, this fact was given a peculiar assessment: "At the banquet in honor of the Victory 24 in May 1945, Stalin proclaimed an installation toast" for the Russian people ", highlighting the Russian people from among other peoples of the USSR as the" leading force of the Soviet Union ". From this point on, according to the researchers of the question, the officially officially supported wave of Great Russian chauvinism begins, accompanied by anti-Semitism. "
Well, yes, it's better not to praise these Russians, otherwise they immediately turn up their nose and are zealous in anti-Semitism. It is better not to give them a descent, always throw mud at them so that they know their place in history and understand who is in charge on the planet. When I hear the word "tolerance", I guess that now they will teach the Russians how to respect small nations. And you - the intelligentsia and the media - do not even think of saying a different word, because it is possible to upset the delicate balance of inter-ethnic relations! And who does not understand this, that idiot and extremist! In this regard, I have a question on etiquette: "Tell me, is it nothing that we sit when you appear on the TV screen and teach us how to behave?"
The site of the new social network "Companions" has a tough exchange of views on the tragedy that occurred in Moscow in early July: the murder of 25-year-old Muscovite Yuri Volkov by three Chechens. This is about a conversation: "I do not say" Russia for Russians ", I say" for Russians too ". "I personally feel hurt when Russian guys are killed with impunity." "It can't go on like this for a long time. Connivance in national politics will lead to grave consequences. There are Russian people in Russia, and they are offended by their attitude towards themselves. " "Either there will be order and equality of all nations in Russia, or there will be rivers of blood. And I really don't want a second one ... "" I said the word "Russian", and you said that I think that Russians are better than others. Why is that ??? "" As soon as I say the word "Russian", everyone immediately starts accusing me of Nazism ... Everyone starts saying that there are no purely Russian ... And what? Am I not Russian now? Who am i Oh yeah, Russian !!! Well, of course, I forgot. Why was it forbidden to be RUSSIAN ??? "" And it turns out that 80 percent of the population who consider themselves Russians do not have the right to do so. They are killed with impunity, in the regions there is less and less work. Wait trouble ... "
There is such a simple, but almost forgotten concept in our everyday life, like national pride. And you do not need to be an analyst of the fund with a loud name to notice how everything connected with Russian victories and achievements is either silenced or trampled into the dirt, humiliating the Russian national pride.
Vladimir Putin, certifying his successor two years ago, said that Medvedev is just as good a Russian nationalist as he is. Such promising definitions are not forgotten. Moreover, both from the Russians and from those who do not consider themselves Russians.
When visiting mosques, synagogues or Buddhist temples, our leaders rightly do not forget to praise the achievements of the Tatars, Bashkirs, Jews or Buryats, assure their spiritual leaders of full piety and give guarantees of continued safe living in the family of Russian peoples.
But who and when will pay tribute to the Russians, protect their national pride? Or let everything go as it goes? ..
Ctrl Enter
Noticed a mistake Highlight text and press. Ctrl + Enter