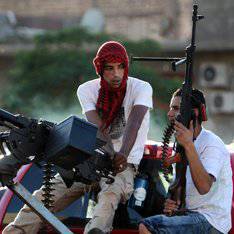 The Syrian TV channel "Ar Rai", which supports the regime of Muammar Gaddafi, confirmed the death of two leaders of the loyalists - the son of Colonel Khamis and the former head of the intelligence service Mohammed al-Senusi. As it turned out, they died on August 29 in the battle for the town of Tarhuna.
About the death of Khamis Gaddafi, a number of Western media reported a month ago. Then the fact of the death of the commander, who commanded the elite brigade of the Libyan army, confirmed his bodyguard, as well as the rebels themselves. According to one of the representatives of the military command of the rebels, Ahmed Bani, the Khamis Gaddafi motorcade encountered a military convoy near the town of Tarhuna, in 80 km southeast of Tripoli. The rebels fired at the convoy, destroying two cars. According to other sources, a rocket fired by the British Air Force hit the Khamis Gaddafi SUV.
One way or another, it was impossible to speak unequivocally about the death of Khamis Gaddafi, because the bodies in the burned cars were burned and not recognizable. In addition, the media has repeatedly reported on the elimination of the closest assistant Muammar Gaddafi, but each time he safely "resurrected" from the dead.
Recently, the PNS fighters broke into the center of rebellious Beni Walid and hoisted a revolutionary flag over the city. And in Tripoli, demonstrations in support of Muammar Gaddafi resumed.
At the same time, in the hometown of Gaddafi Sirte, the surviving units of his army launched an unexpected counterattack and pushed the PNS troops back two kilometers. According to the military command of the new authorities, around 400 commandos continue to operate in the city, remaining loyal to the colonel. The fighters of the elite units, whom the foreign press dubbed "Gaddafi's diehards" ("Gaddafi Daredevils"), are armed with sniper rifles and anti-tank grenade launchers. They hold a number of areas of the city and, day after day, undertake attacks against the PNS military units, whose leadership has repeatedly stated that the capture of Beni-Walid and Sirt is only a matter of a few days.
Currently, the PNS controls most of the country. And Muammar Gaddafi, allegedly hiding somewhere in Libya, continues to call on supporters for active resistance and for partisan war.