The ceremony of laying the first production atomic icebreaker of the 22220 Siberia project took place at the Baltiysky Zavod plant in St. Petersburg, reports
Flotprom
.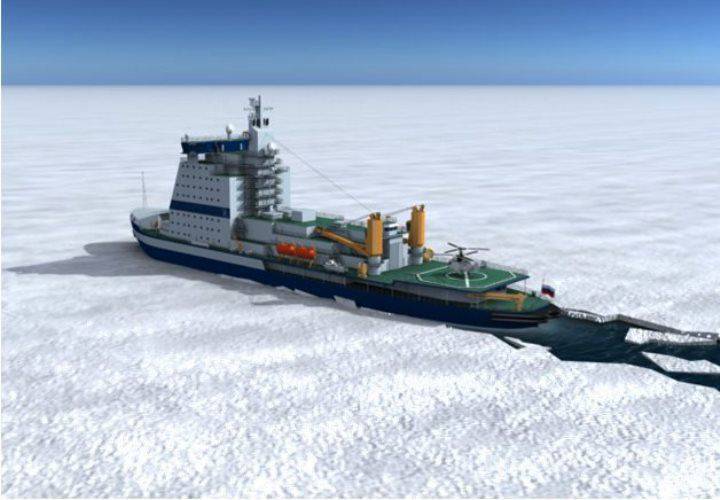 Icebreaker type LC-60
"We have created a unique vessel. There will be no such people in the near future, "said Vladimir Vorobiev, Chief Designer of the Iceberg Central Clinical Hospital, at the ceremony.
The head of Rosatom, Sergei Kiriyenko, who was present at the tab, in turn noted that "the icebreakers of this project will solve defense tasks in the Arctic".
"We all are overwhelmed with excitement and pride. The future of the Russian Arctic is being created before our eyes. Murmansk as an icebreaker base region has a special role. Murmansk people know every icebreaker by name, "said the governor of the Murmansk region, Marina Kovtun.
The laying of the head icebreaker of the project "Arctic" took place in November 2013. Its transfer to the customer is scheduled for the end of 2017.
FlotProm Help:
"Icebreakers of type LC-60 are equipped with a nuclear steam-generating unit RITM-200 manufactured by Atomenergomash with a capacity of 60MW developed by OKBM named after I. I. Afrikantov. Three four-blade propellers of fixed pitch are used as a propulsion unit. The two-draft design of these vessels allows them to be located both in the Arctic waters and in the mouths of the polar rivers. The maximum thickness of solid ice, surmounted by an icebreaker with a continuous stroke, is 2,8 meters. The service life of the icebreaker will be 40 years, the life of the reactor - 320 thousands of hours. The main tasks of these icebreakers are to serve the Northern Sea Route and conduct various expeditions to the Arctic.

The main characteristics are: the longest is 173,3 meters, the width is 34 meters, the depth on the middle is 15,2 meters, the draft is 8,5-10,5 meters, the displacement is 33,5 thousand tons. "