What is different "Litak" from the usual aircraft.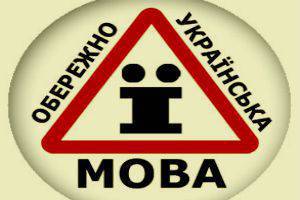 In George Orwell's novel "1984" there is a special application about "Newspeak" - a special quasi-language created by the totalitarian regime just to serve its ideology. Moreover, it was created precisely because the totalitarian ideology itself is absurd, deceitful and full of contradictions. So "newspeak" acts as a barrier to common sense; there is nothing "wrong" on it, and it is simply impossible to think - simply because there are no such words.
However, Orwell's fantasies are just fantasies, in reality it will not be possible to build a "Newspeak". And the grounds for such optimism are given by events ... in Ukraine. That is, exactly where the "Ukrainian language" that never existed in reality performs the functions of a "newspeak", invented and implemented specifically to serve the ideology of "Ukrainians".
And since this ideology boils down to a simple thesis about the fact that "Ukraine is not Russia", then the "Ukrainian language" should be primarily non-Russian. One in which there is no "victory", but "peremoga"; not "treason", but "zrada"; not a "plane", but a "litak"; not a "helicopter", but a "ginto wing"; not a "microbe", but a "dribnozhivets" ...
However, attempts to replace the "moskalsky" terms with their own, with the "right" meaning, led to the situation of the opposite. The living Great Russian language simply began to absorb language ukro-innovations as synonyms, but ... synonyms with a specific meaning.
This process was not difficult to foresee: even in the 1960-ies among the Crimean schoolchildren there were jokes, mockery of "movoy":
- What will be the "house" in Ukrainian?
- Hut.
- And the "pants"?
- Pants.
Simple humor consisted in the fact that hut and pants - they are in Russian language on a par with homes and trousers. Only the semantic tint is special: if the "hut", then certainly in the village and under the thatched roof, and if the pants, then poorly stitched, baggy and without arrows ...
Until recently, the Ukrainian "zrady" and "peremogi" did not have such ironic shades and were perceived by the Russian ear simply as foreign words - strange in sound, but that's all. However, the linguistic hysteria associated with the "revolution of hydrability" very quickly turned the words of the novellap into completely used words in Russian. But only with special semantic shades.
In particular, the "Peremoga" from just the equivalent of "victory" has turned into something similar to the victory of Pyrrhus. And "Zrada" is no longer a banal "treason", but the result of their own feeble-mindedness, which urgently needs to be blamed on someone (preferably on Muscovites).
Correspondingly, such notions of the Ukrainian "Newspeak" as "Svidomost," which has turned from a complete synonym for "consciousness" to the definition of extreme idiocy, have played with new colors. The word "schyry" from "sincere" became the designation of a cunning fool, and "gidnosti" from the analogue of "dignity" turned into a readiness to sell out to anyone "for cookies" in a hurry. In the Russian version it acquired another letter "n" and became "rottenness".
And after all there is nothing to complain about to Svidomits. New shades in terminology did not appear as a result of "zombies by Russian television", but as a result of an adequate perception of independent social and political practice.
And there's nothing you can do: this practice is such that it manages to gloss over even neutral terms, like "litaca" (of an airplane).
Like the plane - he is the plane. But it turns out that shameful allusions can be here, especially if the plane belongs to the Emergency Situations Ministry and flies to Nepal to demonstrate the readiness of the "Nenka" Ukraine to rescue its "greats" (citizens) from the earthquake zone. "Gromadyan", it should be noted, "Svidomo", that is, refused to leave Nepal on the plane "Muscovites".
The epic with the "salvation" turned, as you know, a complete disgrace. Ukro- "litak" on the way broke down, got stuck in Delhi, waited there for several days for a spare part that they didn't bring ... This is despite the fact that "hornards" could easily fly out of Nepal by regular flights on regular planes, and not on "litaca" .
And there is nothing to be done: the associations with the "Litak" were fully established, and the Russian language was enriched with one more word of "Ukrainian" origin. Here is such a visual-applied linguistics: "Newspeak" in a collision with a normal, living language ...