On the information spaces, there was an article that says that special classes were opened in Sunday schools at the churches of the Russian Orthodox Church, in which (attention!) Free preparation is given for the Unified State Examination (USE) and the State Final Attestation (GIA) for children from low-income families. In this case, the team of Sunday schools and those representatives of the Russian Orthodox Church who have embodied such an idea into reality need to express special gratitude if the training is conducted in a scientific way. At the same time, this article itself, but it was published in the newspaper.
"News"
, talks about how the USE is bogged down in all sorts of corruption and quasi-corruption schemes. It turns out that, outside the Sunday schools of the Russian Orthodox Church, it is either extremely difficult or unreal to get free help to prepare for passing the final exams. And this, sadly, is true.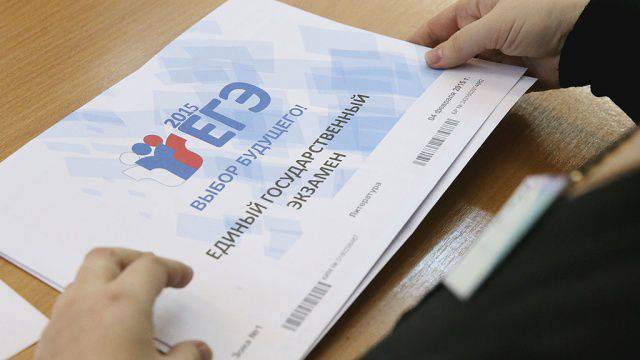 The main, let's say, tangible reason is that the senior classes (especially graduation) have long become a place in which academic disciplines are frankly divided into grades. And it would have been half the trouble if the time allotted in the program for the "highest grade" disciplines (chosen for the Unified State Examination) did not turn into a blind watch for HERE material. Tests, tests, tests ... And if not tests, then in this case, something mechanical that turns a student into a sort of biorobot, which does not need to be creative or even explain the essence of what is written. There is no need to speak at all, because the paper can endure everything, and no one will listen to the student anyway - sit, draw check marks, crosses, maybe you'll get it - don't miss, and the computer, you know, does not identify your creation properly. ..
As a result, thousands of articles in various publications have already been etched from children, the very understanding that knowledge and skills (and, by the way, now these concepts have been eliminated in didactics, being replaced by abstract competences and competences), is etched out not only a set of facts and rules imprinted by the brain, but also the ability to apply these facts and rules in non-standard situations too. If a student is going to take the EGE a little better than it can be done by attending standard modern lessons at school, then, do you want to — do not want to, "take out and put" a few bills for "additional coursework" or pick up a group of tutors cities are estimated at thousands of rubles per hour.
In this regard, a situation arises that differentiates students not so much in terms of mastering the program, as in terms of their possibilities, master the material better. If in a simplified way, then a child from a family with greater affluence if there is a desire (well, at least the wishes of his parents) today is much more likely to be more successful in preparing for and passing the Unified State Examination than a child from a family that is used in many ways to deny itself because limited budget. This already leads to tangible social stratification, when money becomes almost the main factor in quality education. And what, in turn, can such a stratification lead to? - a separate issue, the severity of which is no less than the severity of the question of the modern educational system.
It is hard not to notice that the exploited model of education becomes the first step towards segregation. "Outcasts" appear, which are defined as such only because parents (if they have any at all) do not have funds for "extra" classes, expensive textbooks and teaching aids, to subscribe to electronic libraries, and various "trainings" on the exam or GIA.
Georgy Shalaev (father of schoolgirl, Voronezh region):
My daughter is finishing school this year. I will not say that she walks in a pupil, but she takes her studies very seriously. To pass the exam, from the middle of the 9-th class goes to the tutors. I know that many people start at all from elementary school. This is some kind of foolishness at first ... At first I went on two subjects, and this year I already went on four. I have a feeling that if I had the same way in my time - we studied not only at school, prepared homework, but also ran extra lessons in the evenings, then a generation of continuous Tsiolkovsky and Lobachevsky would grow. Immediately - solid oddities. You ask one thing - he says: they didn't pass, the other too, the third - "it's not at all useful to us on the USE". I ask: what, you are taught only to be useful at the Unified State Exam? .. This is not a school anymore, but some kind of pyramid or, you forgive me, the Unified State Exam sect ... Zadornov seems to have said: "Unified State Examination EWS" .
Valentina Dokuchaeva (teacher, Kursk Region):
Do you think that teachers are delighted with the exam? I would like to look into the eyes of a colleague who would say that the USE is the best form of knowledge assessment. And let it be only an estimate, and then in fact also preparation, which eats up a considerable share of the family budget. Among my colleagues, fans of the exam are definitely not. The state says that corruption is won in this way. Who are we kidding? .. Corruption has now come to other levels, and, unfortunately, has not evaporated from universities either.
Stories
with thousands of beneficiaries, I think you know. Yes, before the grass was greener, the trees are higher, soda is tastier ... But earlier there was no such problem as preparation for the exam somewhere on the side. Someone, of course, prepared so. But more often - himself, behind the books. Now the whole industry is preparing for the delivery of final certification. One must be a cog of this system. Otherwise ... you understand.
Sergey O. (graduate of a regular secondary school, Moscow region):
When the teachers told me (I understand them, on the one hand, they also needed indicators): if you don't pass the exam, you will work as a loader or "some" (smiling - author's note) as a turner at the plant. I usually answered: what, the turner is no longer a profession? Or do we have a program in which everyone should have a higher education? Then I decided - I'll take it and take it out specifically for turner at the school. Unlearning. And I definitely do not feel like an outcast. There is always work. Do managers with two higher educations have one? In the store, it was necessary to shift the boxes from the shelf to the shelf - why did you need to occupy a place in the university ...
There are those people who believe that it is the students themselves and their parents who sow panic in their own ranks. Like, to pass the exam no lessons "on the side" and the costs are not needed; they say, the program allows even without tutors to achieve tangible results. Perhaps this is true, but the question is different: the essence of modern secondary education is the education, upbringing and development of a young man (girl), or is it the main thing that the school will have when it comes to graduates of the Unified State Exam? Considering that the paper bureaucracy today has reached incredible proportions, for some reason it is hard to believe in the first ...