At the Nizhniy Novgorod Mulino proving ground, they are preparing for state trials of a new autonomous field camp of domestic production of APL-500. Tests of the camp will have to start in June 2015 of the year. On autonomous field camps for the Russian army news agency
TASS
said Deputy Defense Minister Yury Borisov:
The first eight similar kits were purchased in Germany. In 2013, the Minister of Defense decided not to purchase more foreign equipment and to organize work on the production and production of these products in Russia from domestic materials with maximum localization. Today the design documentation is all Russian. Now the stage of preliminary tests is being completed, after the state tests will begin. According to our plans, we should start them in June.
APL-500 is designed for the training of military personnel in the field, the protection of certain objects by military personnel, peacekeeping operations and other purposes. Its capacity is 500 military personnel. For NPS-500, the possibility of connecting to sources of electricity and water supply is provided.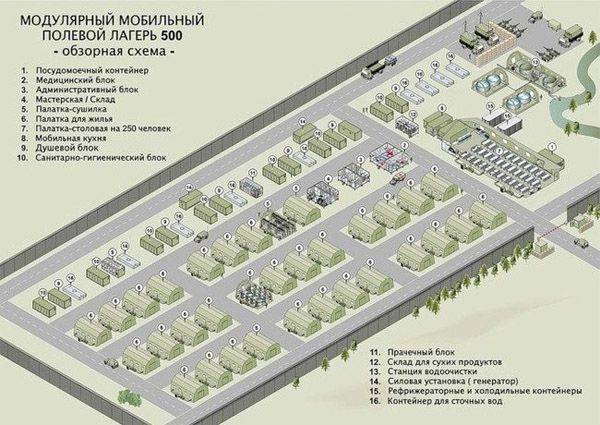 The state program of rearmament of the Russian army includes the purchase of 22 of such field camps.
So the representative of the field camp manufacturing company tells about the functions of APL-500
SET
:
Autonomous field camps (towns of the closed life-support cycle) of the APL-500 are intended:

for medium-term and long-term deployment at test sites, in areas of temporary or permanent concentration of troops, civil defense forces, rescue services, medical, fire and other units;

for the rapid creation of the necessary infrastructure, autonomous support of the vital activity of the permanent readiness units of up to 500 people in undeveloped basing sites, in the field, outside the permanent deployment sites.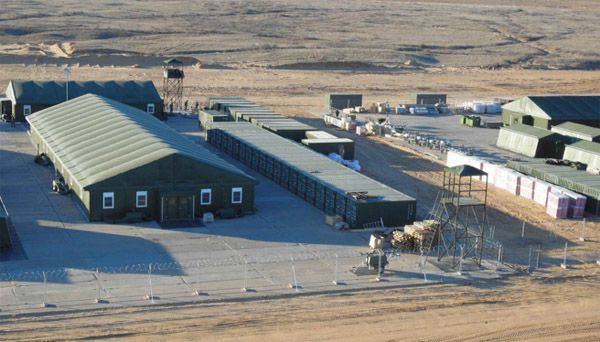 Photo camp at the site Ashuluk (Astrakhan region)
The structure of APL-500 includes the following objects:
small-sized, medium-sized and large-sized tent facilities;
specialized container objects (kitchens, showers, toilets, laundries, waste incinerators, containers for water treatment and water conservation, containers for wastewater);
diesel power generators;
hot air units;
mobile air conditioners;
collapsible fence;
collapsible rubber-plastic tracks;
lighting towers;
fuel distribution tanks;
furniture, shipping packaging, etc.