British Edition
Mail On Sunday
writes that HMS Talent, the atomic submarine of the British Royal Navy, received serious damage. It turns out that the crew of the British submarine conducted an operation to "track Russian ships." "Tracking", apparently, was so fascinating that the crew did not pay attention to another object located in the waters. This is a large ice floe, which HMS Talent faced.
The collision occurred at the moment when the crew of the submarine at the last moment tried to send HMS Talent under the ice floe. It was not possible to escape from the impact of the cabin on the ice object, which resulted in damage to the British nuclear submarine, which was damaged, according to estimates of British experts in the amount of 0,5 million pounds sterling (about 750 thousand dollars).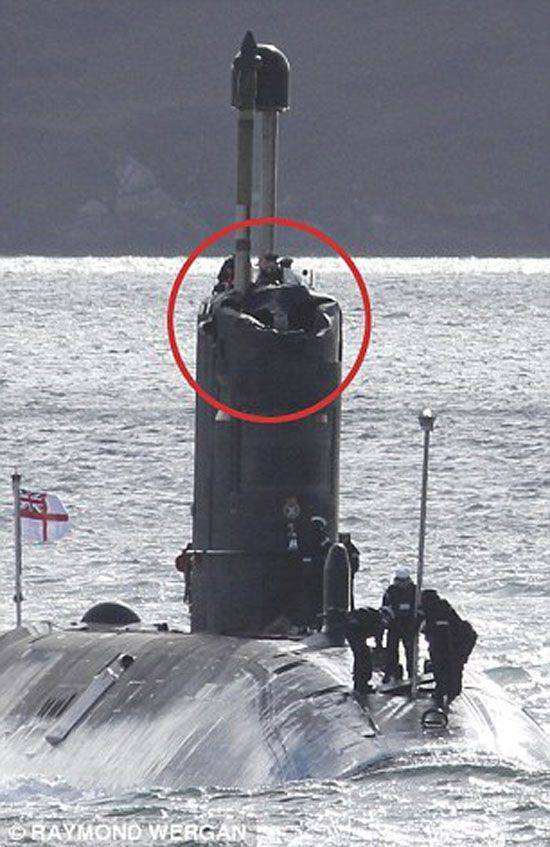 According to the British media, a hole with a diameter greater than 2 m appeared on the wheelhouse. According to some sources, the incident could have occurred in one of the Arctic seas, where British submarines monitor the maneuvers of Russian warships.
After the accident, the engineers found a violation of the integrity of the layer of so-called acoustic tiles. HMS Talent will go through repair work at a British shipyard.
The HMS Talent submarine was built in 1988 and commissioned in 1990. This is the third British boat with the same name for
history
underwater
fleet
United Kingdom.