Despite the fact that the overwhelming majority of the "democratic" Ukrainian and Western media tried by all means to ignore the massive Kiev protest rally outside the American embassy, ​​the details of this action are publicly available. According to estimates of those gathered, they protested at least three thousand people. The main slogan of the protest: "We are not cattle!"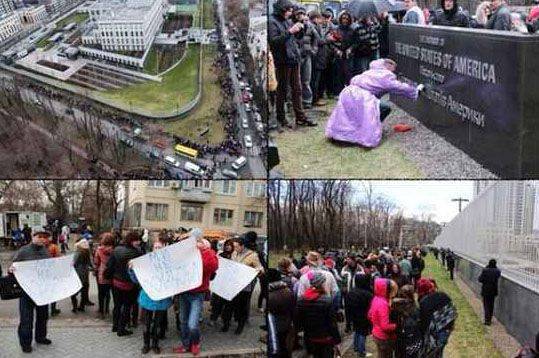 People took the complex of the US diplomatic mission in a tight ring and pelted it with manure. The participant of the protest action Valery (36 years, Kiev) tells:
Nobody is going to reckon with us - the people of Ukraine. All directions go from here - through Ambassador Payette. Poroshenko, Kolomoisky, everyone else obey him, but nobody cares about us. If they want to, they will deliver a foreign minister or pretend to fight corruption. We are not cattle, so as not to understand that we are being led to the slaughter!
The organizers of the protest action under the walls of the American embassy are not reported. As one of the versions that are considered in social networks in Ukraine, the following is suggested: this is another attempt to "redistribute the electorate" by the Ukrainian oligarchs biting with each other.