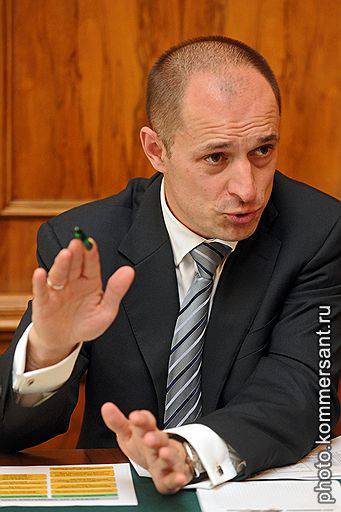 The head of Oboronservis, Sergey Khursevich, about relations with state banks and the ministry.
Almost exactly three years ago, on September 15 of 2008, a presidential decree "On Oboronservis" was signed. During this time, the holding, which received control of more than 300 enterprises that were under the jurisdiction of the Ministry of Defense, has become almost a monopoly supplier of products and services for the military, from food in stores at military camps to the repair of military equipment. The part of the army's needs is now provided by the holding, how the state order system will be reformed, and why Oboronservis does not need agricultural assets, the general director of OJSC SERGEY KHURSEVICH told in an interview with Kommersant.
- In the beginning of the month it became known that the structures under the Ministry of Defense will transfer all their accounts to VTB. Where did such a decision come from and by whom was it authorized?
- Oboronservis OJSC is a commercial organization, all decisions in it are made exclusively by the authorized management bodies in accordance with their competence, in order to ensure the competitiveness of the company, increase its efficiency, and responsibility for the consequences of the decisions is our commercial risk. The structure of Oboronservis includes more than 300 enterprises, and if each of them opened at least one account in "its" bank, it would be absurd to talk about a single vertically integrated structure of society. Since the internal treasury system of Oboronservis has not yet been created, our task was to make Oboronservis serve the minimum number of financial institutions. We seem to have solved this problem. To choose a small bank that has one main office and one additional office is absurd. Therefore, we have attracted banks that have the widest possible territory of coverage. At present, there are two backbone banks, Sberbank and VTB, and we told our companies to leave accounts there. I will note that we do not force our subcontractors to work through any particular banks, and I have never made such proposals to them.
I find it difficult to comment - where did the information about the transfer of all funds and accounts at VTB come from? I repeat: we have accounts opened in both banks, and we will continue to work with both, at least in order to maintain a competitive environment. But, naturally, most of our accounts will be in the credit institution, which will offer us more comfortable conditions. At the moment, VTB offers somewhat more comfortable conditions, especially in speed of decision-making.
Hursevich Sergey Nikolaevich
11 was born on August 1970 in Kharkov. He graduated from the Leningrad Higher Military-Political School of Air Defense and the Russian Academy of Civil Service, specializing in manager-economist ...
- And where is your payroll?
- Salary projects in our subsidiaries are implemented both in Sberbank and VTB. Personally, I have cards in both banks.
- In equal parts?
- Different enterprises make different decisions: if the company has a very wide coverage and in some very small village it has a team and it is necessary to ensure the issuance of salaries there, then the competitive advantage of the bank, which has a branch in this village, is obvious. If it is a big city, then the competitive advantage of one bank is not obvious, in this case a common installation is realized.
- Where did this one come from then? история with the confrontation of two banks?
- It's hard for me to say. Maybe this is a competition of two banks, maybe someone provoked.
- You mentioned the internal treasury system. Maybe Oboronservis itself will become a bank?
- The statutory activities of Oboronservis OJSC are determined by presidential decree No. 1359 of 15 of September 2008, and that says it all. Consolidation of funds in the accounts of two banks is only one of the tools to ensure effective management of financial flows. At the same time, of course, the OJSC will not play the role of a credit institution - it will simply be implemented a unified scheme of financial management of subsidiaries and affiliates of Oboronservis, which allows efficient management of cash flows within the holding.
We will monitor the movement of accounts so that there are no disruptions in the execution of the order or problems with the provision of guarantees. At the same time we will begin to create a treasury system. This will allow us to track every financial flow, will provide an opportunity in the shortest possible time to ensure the provision or consolidation of the necessary financial resources. But how much it takes, I do not know. Maybe months, maybe a year or two.
- What part of the order of the Ministry of Defense and its needs, apart from the main item of expenditure - the supply of weapons, is covered by Oboronservis and generates your revenue?
- This is confidential information, but still I can say that it is tens of billions of rubles.
- How much do you cover the need of the Ministry of Defense in certain sectors? You have been repeatedly called a monopolist in serving the needs of the military ...
JSC "Oboronservis"
Created by presidential decree of 15 September 2008 of the year as part of the restructuring of the Ministry of Defense and the association of its enterprises and organizations engaged in economic activities ...
- Maintenance, repair of buildings, housing stock of the Ministry of Defense - 100%; food for military personnel - about 70%; sewing uniforms - 100%; maintenance of power lines - 100%. In the servicing of military equipment - a very small percentage of our participation, since the service of the most complex products - primarily related to space, rockets, etc., is carried out by manufacturers. All expensive repairs of ships, naval vessels
fleet
carries out, for example, the United Shipbuilding Corporation - it is the only contractor. As a result, if we take in percentage the service and repair work on armaments and military equipment, then we do not even reach 50%. One of our strategic goals is to provide comprehensive after-sales service for weapons and combined-arms equipment.
- What is the level of profitability of Oboronservis in this situation?
- Total holding - up to 10% (net profit margin). Taking into account the versatility of the services provided by the OJSC, in some cases the absence of alternative market offers, and also taking into account the specific requirements of the customer, the Ministry of Defense of the Russian Federation, is also negative for subholdings. This factor once again underlines the uniqueness of our organization and the vital need to build a vertical, including financial one. It should be noted that profitability is an indicator that is strictly regulated by our main customer - the Ministry of Defense of Russia, in particular, the pricing department. Therefore, when entering the state contract, we clearly understand the structure of the cost of the relevant services embedded in it. And the possibility of increasing the level of profitability, naturally, without degrading the quality of services provided, for example, by optimizing costs, is already an art of business management, a question of the professionalism of the organization's management.
- By priority level - how are the sub-holdings distributed in the structure? What brings the most revenue?
- The priorities are set by the owner - the Ministry of Defense. On this basis, the priority can be called sub-holdings, whose management and ownership are long-term: these are Aviaremont OJSC, Remvooruzhenie OJSC, Spetsremont OJSC, Oboronstroy OJSC, Oboronenergo OJSC, and Slavyanka OJSC. According to the results of 2011, the largest revenue (tens of billions of rubles) will be shown by Slavyanka (revenue by the results of 2010 of the year— 2,4 billion rubles — Kommersant), which from this year now not only manages hotel and residential complexes, but also serves " communal ", with the exception of heating, all garrisons.
There are assets - apparently non-core sub-holdings, which are considered as short-term projects: OJSC "Agroprom", OJSC "Voentorg" and OJSC "Red Star". For example, we are a non-core agricultural company, if we talk about Agroprom, where former military collective farms are gathered to develop them. For the current year, the company's revenue will be about 8 billion rubles, the consolidated profit on them is zero or a slight plus. But in general, I see no prospects for keeping this asset in the Oboronservis structure - this is not our segment, and we don't need to work where we are non-exclusive.
With the holding "Red Star", which includes the TV channel "Star", the newspaper "Red Star", a lot of publishing houses and cartographic factories, the same story. All enterprises are actively working in departmental interests, but anyone can provide printing services for the Defense Ministry, for example, so I also do not see this asset as an exclusive one, which needs to be fixed and developed for years. If we compare it with Slavyanka, then, after the subholding was instructed to replace the apartment operational agencies in the maintenance of the housing and barracks fund, this is an exclusive segment. Yes, this is hard work, but until we find and hire regional or system operators that will work in this segment, Slavyanka has no alternative.
- But Voentorg, for example, is "on an exclusive basis" at the Ministry of Defense ...
- With Voentorg the situation is as follows. Several different functions are assigned to it at once. Firstly, the company is directly involved in trade, that is, it works in a highly competitive sector. There are shops or tents in garrisons (their order is 1,5 thousand), hairdressers (around 700) - and they belong to Voentorg, which provides delivery of products, materials, etc. But this is not a normal situation! You need to look for a global or local retailer, on the tents - an individual entrepreneur who will ensure the fulfillment of these tasks. In addition, Voentorg is assigned the function of organizing the catering of personnel - but in the field there are already selected subcontractors who do this.
However, it is impossible to switch to an outsourcing scheme completely now - this is a slow process. It is important for us not to stop the trade and everyday service of the military camp because of the fact that we had such a quasi-market idea, but we did not fully realize it. For now, Voentorg as a single operator is required. We can not afford to take a couple of weeks, while we are looking for a good contractor or a replacement for the old one, not to feed the soldiers. For example, if there is no Voentorg, and in the existing scheme, the food organizer will be an unfair subcontractor, due to the termination of the contract, a new tender will be required. Now, 45 days have passed to the new contract, envisaged by 94-FZ ("On placing orders for goods, works and services for state and municipal needs." - "Kommersant"). There is a methodological problem, and what will eat the soldiers? Who will feed him? In this case, the problem has been solved, since there is a contract with Voentorg and he is responsible for ensuring that there are no such disruptions. And he has a good subcontractor, a bad one - these are his problems. The main thing is that a soldier should not notice any discomfort.
- Do you also leave the construction for the Ministry of Defense in the form of the Oboronstroi functional?
- Directly construction is the very highly competitive sector where we are non-exclusive, and I don't see the point of investing there. In this sector, a bunch of excellent companies that work, which specialize in construction. For example, if we win a tender for the construction of a housing complex for the needs of the Ministry, say, in Samara, we need to recruit people, sign contracts, etc. The construction will be completed, but what do we have with people if the next task is construction, for example, in Yekaterinburg ? Let's immediately find a Samara company, which initially can build all this, and then continue to work there further, and it will be good. In this regard, Oboronstroy is interesting as an engineering company that can hire a large number of builders in a short period of time, but not as a global construction company that employs tens of thousands of builders and hundreds of pieces of equipment.
- What is the volume in percentage terms you are subcontracting today?
- Depending on what region, on what subholding, on how much, how far it will be possible to prevent dependence on counterparties. After all, we bear all the responsibility, regardless of whether we have subcontracted or work on our own.
We have a conceptual approach, its essence is very simple - the division of services provided by us, based on their market: the first approach in a highly competitive environment (for example, hotel services, food, trade and consumer services), the second approach - in the field of natural monopolies (electricity, heat supply) and the third approach is in the area where the market segment has never been mastered by any commercial enterprises (landfill operation, after-sales service and prompt restoration of military equipment on the model entirely in the place of its dislocation). Accordingly, the higher the level of competition, the greater the share of outsourcing.
- How do you choose subcontractors?
- We have an electronic trading platform "Oborontorg". It will be possible to participate in the competition in a particular region. But, unfortunately, in the highly competitive sectors of the economy, a large number of subcontractors have not learned to use such a service as an electronic platform and do not consider it necessary. Until we teach them, we will have to hold contests in various forms.
- But there are some industries where only your base can be used?
- Yes, it is electricity and heat, water supply and sewerage. At the same time in the sphere of natural monopolies for us the most difficult thing is to get for approval of tariffs for electricity, water supply and heat. Now we at the level of individual regions approve these tariffs. And this is the whole story. As soon as we approve them, we will become full-fledged players in the relevant markets.
- And what exactly are difficulties with?
- In cooperation with the regional commission to confirm its costs. There each comma should be considered and justified. In the past, the Ministry of Defense was not very concerned that its costs be fully captured and not very considered them, compensating for the shortcomings of taking into account the cross-financing of various costs. Example: if there were soldiers in the boiler room, the payroll is immediately reset. Today, in order for me to enter the tariff with normal "stokers", I need to calculate the wage fund. After that, the regional commission makes a comparison with its neighbors and says: "Wait. Why do you have costs for this boiler house above average regional? "The normal question. I say: "Wait! The condition of fixed assets and technology does not allow reaching regional average costs. " Further, if we remove the centralized supply of coal, which has never been taken into account at the boiler house level, we will immediately have a fuel component. If we put the boiler in order - and not by our own means, not when the soldier was ordered to cook the same boiler, but normally we order, as expected, expenses appear. The regional commission immediately asks to prove it. And it slows down the process. Despite this, we work with each region. I hope that by the end of the year the tariffs will already be approved.
- But are you planning to increase the resource base or not?
- Hardly. We will not become producers, for example rockets, right? Therefore, the most highly profitable service sectors of armaments and military equipment will never enter the sphere of Oboronservis.
- Your task is to find such a ratio of price and quality so that you can repair a military product, and it doesn't matter who is the main thing for it to suit the price. But there is no such thing that sometimes it is more profitable to do it with a foreign customer? Does it cause dissatisfaction with the Ministry of Defense?
- Repair of domestic weapons, military equipment from a foreign customer is unlikely. I have no idea how to do this. They have no documentation, no spare parts, they have not mastered the repair activities. It is technically impossible. For example, without "Uralvagonzavod" with its documentation, spare parts and specialists, it is impossible to repair the same T-72 legitimately. If the manufacturer of equipment was originally located outside of Russia, for example, in Ukraine, then there is a subject for interaction, you can negotiate. As for our internal technology, then for the overwhelming number of products there is no possibility for repair abroad.
The fact is that the Ministry of Defense is now seeking to save as much as possible on logistics costs and to set such conditions of competition as much as possible so that it is convenient for both the military and the organization that carries out repairs.
- And what does it look like?
- They say to me: here is a broken tank, and we want it to be here, but in good condition. If you are such a specialist, that you can repair it only in factory conditions - no question. Dip on the platform, take it to your factory. Repair it. Immerse again on the platform and deliver it from where it took. But Oboronservis will only be paid for repairs without transportation. And then already do as you like. Naturally, some problems can be eliminated exclusively in the factory, and then the transportation will be included in the contract price. But the main volume of the restoration of the Defense Ministry requires to be carried out at the location of weapons and military equipment. All honest.
- So you actually get a monopoly?
- This situation is due to the fact that there has never been a whole number of sectors of the economy that replaced the military division of the Russian Armed Forces, restoring weapons and military equipment at the place of deployment. And we are now turning to this task, although I would not call it a monopoly either. As recently as a year ago, while developing this system, they approved the concept of adapting the system of repair service to the new look of the armed forces. This is such a fundamental document that completely turned the whole system of repair work. At the 5 Brigade, we have assembled all the leading performers for military equipment. They scored more than 60. That is, for the repair of equipment, it is required to keep order 60 of mobile teams in one place. And what to do with this crowd? It is impossible to work. It was then that the decision was ripe that it was necessary to create a kind of universal brigade that could work on all types of weapons and military equipment. And contact the manufacturer - to perform a particularly complex configuration, diagnostics. Some block, unit or unit in the car broke down: let them send this block, unit or unit, which we will change on the spot. If we do not have enough competence, then there is also a specialist who will help to change. It is difficult to implement, but we must master it. Many enterprises that were engaged in the repair of their equipment under separate contracts are ready to take us on a subcontract, even where they are the main performers.
- Почему?
- In order to send their brigade, they need to pay travel expenses. Suppose a repair team is sent from Tagil to Rostov - yes, travel expenses will be consumed instantly! Therefore, in Rostov it is advantageous to constantly keep a universal team that can change the oil and
tank
, and on "KamAZ", and on "Ural", and on BMP. Then people are constantly busy, and you can predict their work, and thus ensure a rhythmic load. There are only two options under a contract for one type of equipment: either I pay for the road to a separate brigade and drive it from Tagil to Rostov and vice versa, or I seat them there and understand that they eat travel expenses, doing nothing during periods when work on this type no technology. As a result, everyone will be forced to go to some kind of universal brigade, which works constantly.
- What steps are you taking for this?
"We are currently developing a very interesting technological platform for modeling and operating high-tech systems. The fact is that now in the Russian market practically in all sectors of the military-industrial complex (and in a significant part of civilian sectors) there is no maintenance of the product life cycle at all stages. As a result, very good products are produced, but proper service is not provided. We want to discuss this issue with those who will operate the equipment, with those who will produce it, with those who will carry out its service. And so on until disposal. And to understand how to link all this into a single chain called "maintenance of the product life cycle". And now, in principle, the Ministry of Economy has already deeply enough tested this technology platform. If this project is approved, a huge number of enterprises of the military-industrial complex join it. The effect of building a life cycle support system - from design to disposal - will create a qualitatively new product on the Russian market that will be interesting both for domestic consumption and for international cooperation.
- How will this affect manufacturers?
- I think that it will stimulate an increase in the efficiency and manufacturability of products. Example: I abroad filmed the replacement of an engine on a product with a similar one produced by a domestic manufacturer. It took place within 15 minutes. We - this is 15 hours. This happened because at the design stage was not provided for a quick replacement of this unit. "Domestic manufacturer" seriously thought - I hope that this will be followed by appropriate technological solutions.
- How will this technology platform be framed: an agreement, a contract?
- Formally, this will be an agreement between the mass of enterprises, manufacturers, service structures, designers, operators. The platform will be framed in the form of a non-profit partnership that implements a common concept to which different enterprises are connected, which will ensure closer and more effective interaction. This will ensure the maintenance of the life cycle, logistics for spare parts, logistics for technical documentation, development of technical documentation, solve the issue of disposal, etc.
We expect to extend it entirely to the military-industrial complex, in order for a qualitatively new product to appear in Russia, so that we all become accustomed to the fact that when designing I need to understand the entire life cycle before disposal and make a convenient service for my product.
- In what form is this idea now?
"Approximately six months ago, we applied to the Ministry of Economy with her and received support; they, together with the PKK and the Higher School of Economics, helped us to finalize it. It is difficult for me to say when the issue will be resolved, the Ministry must submit this project for approval to the government. I hope that a positive decision will be already this year.
- And when can the first such agreements be concluded?
- To do this completely, on a turnkey basis - these are years, maybe decades. But you need to start today. Today we can already discuss a lot, for example, their service and logistics support schemes, in terms of recycling - which units how to use, etc., in terms of technical documentation - how to modify it, so that it is convenient to support the life cycle. These are just common rules that all manufacturers agree on and begin to abide by them.
- How much does the Ministry of Defense influence decision-making in a holding?
- They are proprietors, I agree with them on all serious decisions without fail. But I can buy a pack of paper without consulting with the Ministry of Defense.
- Are there any complaints from the Ministry of Defense regarding the work of Oboronservis regarding the use of funds? Have they been expressed openly or in some form?
- No, there were no questions about rational spending of funds. And on the turnover there are claims. For example, we repaired the tank T-72. But from the point of view of military repair, it was necessary to carry out a little differently, or it broke down after repair. Then we receive a complaint, which says that we have to go to the unit for our money and restore its technical condition.
- Do you have the Chamber of Accounts?
"They finished checking two weeks ago." As long as I don't have an act on my hands, I can say that I didn't make any complaints in the course of work. Although certain complaints will most certainly be: the one who does nothing is not mistaken.
- How is your price justification? At the beginning of the summer, for example, the Ministry of Economy published the results of a price check of one of your subholdings - Voentorg: prices turned out to be too high in many regions (see "Kommersant" on June 23).
- The fact is that the nutrition of the personnel is sewn up in the estimate of the Ministry of Defense and the amount there is very small. It varies depending on the region - each has its own coefficient. This is the first. Secondly, before they conclude a contract with me, you need to go through the pricing department, and there you have very qualified control - these are tax officers in the past. After they remove all surpluses, I am ready to go for any check, to any antitrust services, to any counting chamber, and anywhere. After the conclusion of the pricing department, I will defend any price. They will not let loose.
- What is the volume of revenue "Oboronservis" accounts for non-departmental structures?
- These are different volumes for different subholdings, but the range is approximately 5 – 25%.
- Is it possible in your case the history of obtaining foreign loans for development at the level of the parent company?
- At this stage there is no such problem. As long as we understand how we can reduce the cost of outsourcing services, at the same time improving their quality, while we deal with the entire set of issues to optimize the holding's structure and assets, it's too early to talk about preparing a system project where a system loan would be needed. As soon as we systematize and understand what we are doing, where the perspective is, where we can invest, we will discuss what the sources are and the source of the external loan, I think, we will not consider in the first paragraphs.