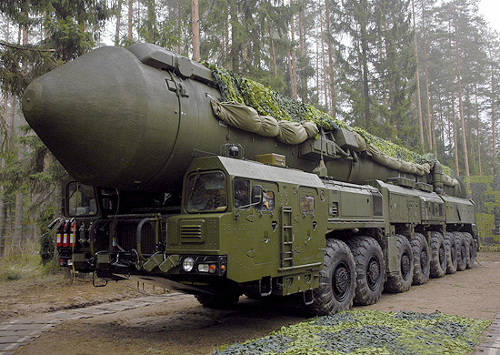 The second missile regiment, armed with the newest mobile Yars submarine missile system, will take up combat duty until the end of 2011, Lieutenant-General Sergei Karakaev, commander of the Strategic Missile Forces (RVSN), told reporters on Monday.
"Until the end of 2011, the second missile regiment armed with the Yars mobile missile regiment (PGRK) will be on duty in Teikov missile compound (Ivanovo region)," Karakaev said. The commander of the Strategic Missile Forces recalled that the re-equipment of the first missile regiment in the Armed Forces of the Russian Federation was completed at the Teikov missile unit at the Yars PGRK Yars. On March 4, 2011, this rocket regiment took up combat duty as part of two rocket battalions, which, from 2010, performed the tasks of test-combat duty. "During this period, all the declared tactical-technical characteristics of the missile complex were confirmed, all the tasks that confirmed the reliability of the new weapons were tested. And since 5 August 2011, after taking up the third rocket battalion on combat duty, duty in full staff composition, "- he said.
As Karakayev noted, the retraining of the personnel of the next missile regiment, planned for rearmament at the Yars missile defense regiment, continues at the Teikov missile formation. In July, 2011, the military personnel of this regiment were retrained on the basis of the training center located at the Plesetsk cosmodrome (Arkhangelsk region).
MBR RS-24 with a split head developed by the Moscow Institute of Thermal Engineering. This rocket was created using scientific, technical and technological solutions implemented in the Topol-M missile system, which significantly reduced the time and cost of its creation. Compared to its predecessor, the Topol missile system, the Topol-M and Yars mobile ground-based missile systems have significantly improved combat and operational capabilities. This was achieved, among other things, by adapting the combat equipment to the missile defense conditions, increasing the mobility and secrecy characteristics of the reconnaissance equipment. Implemented and additional measures to improve the safety of the complexes. "The adoption of the RS-24 ICBM will enhance the combat capabilities of the Strategic Missile Forces strike group to overcome missile defense systems, thereby strengthening the nuclear deterrence potential of the Russian strategic nuclear forces (SNF). In the future, together with the PCB-12X2 (missile the Topol-M complex), the ICBM RS-24 will form the basis of the strike force of the Strategic Missile Forces, "the commander of the Strategic Missile Forces emphasized.