Lukashenko's charms attracted the Chinese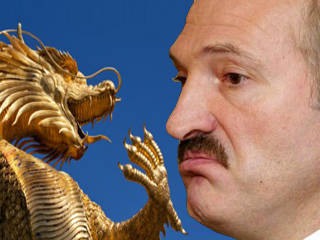 As long as intermittent, then renewed negotiations between Russia and Belarus on the creation of a single economic space and closer integration in other areas are underway, China decided to do what is called a knight's move. Noticing that Comrade Lukashenko's relations with his Russian colleagues, to put it mildly, are not the most benevolent, the Chinese authorities decided to take possession of a strategically important point that Belarus can be considered in this situation. An impressive delegation from the Middle Kingdom, which represented virtually all spheres of the Chinese economy, managed to visit Minsk quite recently. More than 100 people came to visit Alexander Lukashenko to offer close cooperation. From such attention to his country, "abandoned" and the West, and, in part, Russia, the Belarusian president literally melted away, like a girl to the ouster, who came to woo the rich foreign fiancé. From the groom, it is really possible to snatch a serious chunk, with which you can then flaunt in full view of the neighbors.
Alexander Grigorievich in this situation quickly found his bearings and accepted the offer of fraternal Chinese assistance in the form of a billion loan (in dollars that were hated by both countries, of course). However, the Chinese offer a loan not to please the mustache of the Belarusian uncle. In exchange for this, in the medium term, China wants to privatize a number of Belarusian enterprises and then realize its interests here. But this is Lukashenka's little concern now. His eyes were oily, firstly, from the word "credit", secondly, from the phrase "billion dollars". And here it does not matter that there these Chinese are going to receive from Belarus in exchange.
If we look at the situation that China offers to Alexander Lukashenko from an independent point of view, then everything for the Belarusian "father" does not look so cloudless. Imagine what happens if China takes up and privatizes several Belarusian industrial enterprises, and then, at its own expense, also builds telecommunication systems, factories and other production facilities. Wouldn't this be the infringement of the monarchical monopoly on everything and everyone in Belarus for the current president? By investing their money in the Belarusian economy, which today S & P analysts have lowered to a negative B-level credit, China is striving to gain some serious bonuses. This is due to the fact that where there is nowhere to fall further, sooner or later, growth must begin, or the complete destruction of the economic system and, along with it, the political system should occur. Lukashenko pecked at this bait.
Immediately I heard laudatory odes in honor of how wonderful it would be to develop with Chinese friends. How will the Belarusian indicators grow, and the Chinese too, thanks to such close joint activities. Speaking these words, Lukashenko, not without malice, looked towards the Kremlin. Between the lines one could hear that, they say, you, gentlemen, Russians, professed my loyalty, and with it the opportunity to work productively in Belarus.
It is worth noting that the Kremlin, of course, is not thrilled that the Chinese have decided to talk one-on-one with the Belarusian leader, without taking into account the fact of the union state. However, our leaders are so carried away by mutual permutations at the highest level that they are still clearly not up to Lukashenko and his new Chinese hobby.
Let's not forget that the Chinese offer Belarus not only the privatization of a certain number of enterprises, but also the creation of a technology park, which will cost China almost 30 billions of dollars. By the way, in Belarus there are excellent opportunities for industrial growth. Cooperating with China, Belarus regularly receives Russian hydrocarbons at, let's say, fraternal prices. And if prices are much lower than European prices, then we get the following picture. China is investing much less money than it would have to invest in the same Italy, which pays for gas at world prices. Belarus in general gets an excellent opportunity to feed directly from two milk cows: China and Russia. And each of these cows Lukashenka can say that, they say, the second cow gives me more milk than you. There is a tacit competition in attempts to invest in the Belarusian economy. And Lukashenko remains rubbing his hands.
However, the string of dependency and attempts to extract political dividends on maneuvering between partner countries could suddenly and Alexander Grigoryevich break. After all, China is unlikely to continue to invest in the financial system of Belarus if it notes that President Lukashenko is trying to play a double or even triple game. Russia has long been accustomed to this kind of cooperation, but the PRC may simply be taken aback by the "non-standard" decisions of the Belarusian leader.
It remains to be seen how Russia will behave in this situation. Will she declare her claims on the Belarusian markets or act as an outside observer until the first inconsistencies between Lukashenka and Chinese investors? Shows time. And everything should be resolved in the coming year. One can only say with certainty that no one has yet won from cooperation with the Lukashenko regime. Watch out, China!
Ctrl Enter
Noticed a mistake Highlight text and press. Ctrl + Enter