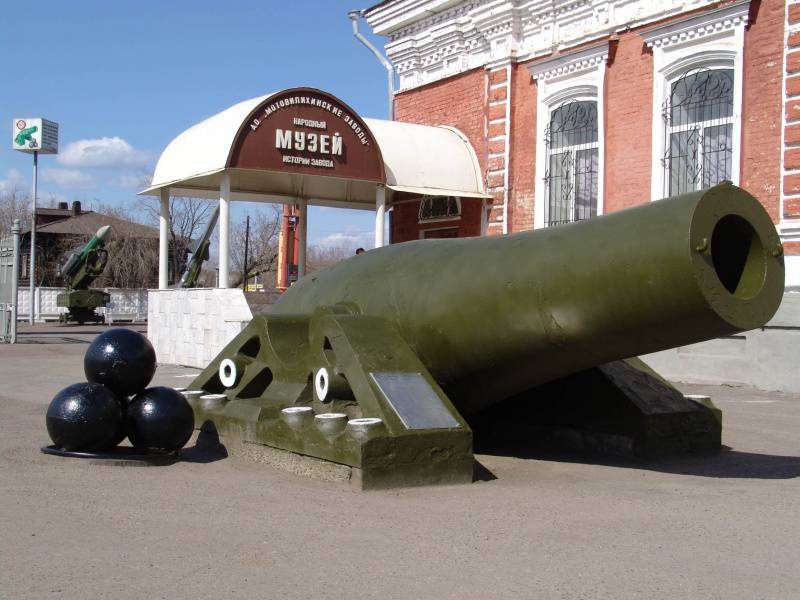 In the year of its 275 anniversary, Motovilikha Plants OJSC opens the most modern and high-tech artillery production in Russia.
As the press service of OJSC Motovilikhinskiye Zavody reported, the company has implemented the first stage of an investment project to create a center for a high-performance machining complex.
During the first stage of the investment project, carried out over a year and a half, two modern production sites were designed and built: a site of processing centers and a site for processing artillery barrels. The area of ​​new production amounted to over 15 thousand square meters. The use of this equipment will increase the technical level of military products and will increase the volume of its production. In addition, a set of works was carried out to bring to the standard parameters of buildings, structures and networks of building M where the production is located.
The opening and launch of the new production was timed to the Day of Mechanical Engineer, which was celebrated on September 25. The ceremony was attended by the governor of the Perm region Oleg Chirkunov.
Thanks to the support of the regional authorities, the investment project received funding from the federal budget in the amount of 280 million rubles. The company's own investments amounted to more than 1 billion rubles.
By the end of 2012, the second phase of the investment project is planned to be completed. Its result will be an improvement in the quality of all manufactured products, a reduction in production cycles, a reduction in production costs by 10%, and an increase in output per worker for 20%.
The investment project is being implemented as part of the development strategy of Motovilikha Plants for 2011-2015. The strategy determines that the development and production of military equipment is becoming a key area of ​​enterprise development. By 2015, sales of military equipment under the state defense order and under export contracts should be more than 10 billion rubles annually. (more than half of the total revenue of the holding).
As a result, the Motovilikhinsky Plants will become the No. 1 artillery plant in Russia.
As stated by the General Director of OJSC Motovilikhinskiye Zavody, Nikolay Bukhvalov,
"The most difficult second stage begins. After all, it is not enough to choose equipment, to order it, to mount it. It is necessary to properly organize production, create a new work culture on this equipment. No investment will yield returns if the organization of production is not at the proper level. "
Oleg Chirkunov, the governor of the Perm region, for his part, noted that "for any enterprise it is important to choose the right development strategy. "Motovilikha" made such a choice ... Now "Motovilikhinskiye Zavody" is seriously claiming to become a leader not only in its industry, but also as a leader in the Perm region ".