The Ukrainian Service for Sociological Research Research & Branding Group conducted a survey to determine the ratings of political parties in Ukraine. During the press conference, the results of the sociological research were announced. How does it transmit
"PolitNavigator"
, the parties that have become leaders in the elections to the Verkhovna Rada suffer a real rating defeat from the Ukrainian citizens.
The main question was presented as follows: "If the elections to the Verkhovna Rada of Ukraine were held next Sunday, which party would you vote for?" If you believe the results of the poll conducted by the company, then the leaders are "Petro Poroshenko's Block", who are ready to cast their votes 13,2% of Ukrainians. It would seem that Poroshenkovtsi should be happy for their first place, but there is no joy. The fact is that since September last year, the BPP rating has fallen by half.
The situation at the "Popular Front" Yatsenyuk is even worse. Only 2,5% of respondents supported it, and the result of the survey in the eastern regions of Ukraine looks more eloquent: 0%.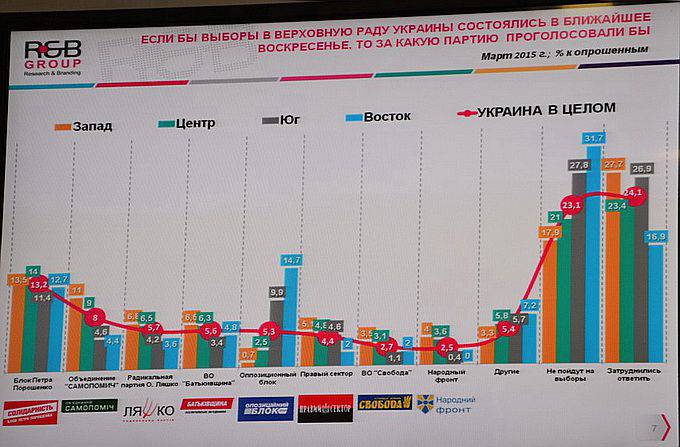 The results of other parties:
"Self-help" - 8%, "Radical party" Lyashko - 5,7%, "Batkivschyna" - 5,6%, "Opposition bloc" - 5,3% (record index since September 2014), pravoseki Yarosh - 4,4%, "Freedom" TynnyX - 2,7%.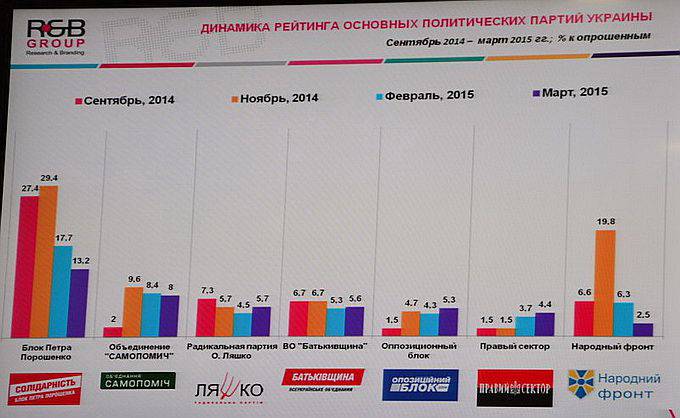 23,1% of Ukrainians said they would not go to the polls, and 24,1% said they do not know who to vote for.